Israeli Prime Minister Benjamin Netanyahu on Saturday wrote in a statement "well done to our soldiers," after the clashes with Palestinians on the Gaza border entered a second day.
"Israel acts vigorously and with determination to protect its sovereignty and the security of its citizens," he added.
Gaza Health Ministry spokesman Ashraf Kidra said on Saturday that at least 10 Palestinians suffered gunshot wounds in renewed clashes with Israeli soldiers amid mass rallies on the border between Israel and the Gaza Strip.
"Ten Palestinians suffered gunshot wounds on the border of the Gaza Strip during the second day of clashes with the Israeli army," Kidra said.
Palestinian WAFA news agency reported earlier that six Palestinians were injured on Saturday in clashes with Israeli forces on the west side of the Gaza Strip.
The agency noted that three of them had been shot during clashes with the Israeli police near the town of Khan Yunis, while other three had been injured near a tent camp in the western Gaza. 
Warning!: Graphic Content 
Meanwhile, several hundred of protesters were affected by tear gas that has been used by the police to disperse the protesters. Hamas movement, in its turn, has stated that among 15 Palestinians, who have died during one-day-long clashes, five belong to the Izz ad-Din al-Qassam Brigades, which is Hamas's military wing.
"We state that five fighters of Izz ad-Din al-Qassam Brigades were among 15 Palestinians killed yesterday in the clashes with the Israeli army in the Gaza Strip," the Hamas statement obtained by Sputnik said.
The event dubbed "The Great Return March," which started the day before, is dedicated to the so-called Land Day, commemorating the day in 1976, when Israeli troops killed six Arabs protesting against confiscation of land.
Palestinian President Mahmoud Abbas stated that Israel was responsible for the violence, having declared March 31 a national day of mourning, while Israel blamed the brutal protests on Hamas, saying, "the IDF would not allow the security fence to be turned into an area of terror."
READ MORE: Thousands of Palestinians Continue Protests in Gaza Despite UN Warning (VIDEO)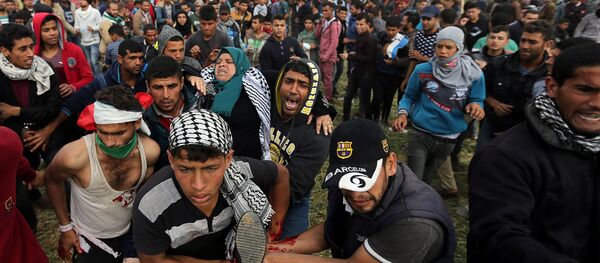 Later this year, on May 15, the Palestinians will commemorate Nakba (disaster in Arabic), when hundreds of thousands of Palestinians were displaced after Israel announced its independence in 1948.
The protest sets an objective to attract attention to the problem of people, who have become refugees because of Nakba, as well as of their descendants. The event has been organized by such groups as the Hamas movement, the Fatah party, the Popular Front for the Liberation of Palestine and the Democratic Front for the Liberation of Palestine among others.