According to Yemen's Arabic-language Al-Masirah television network, cited by Press TV, forces in the wartorn country have claimed a successful hit by a domestically manufactured short-range Badr-1 missile on the Al-Jarbah military base.
The report added that the projectile was fired in retaliation for the Saudi regime's military campaign against the crisis-hit country and that it had hit the designated target with great precision, inflicting heavy damage to the camp, killing and wounding an unspecified number of Saudi soldiers.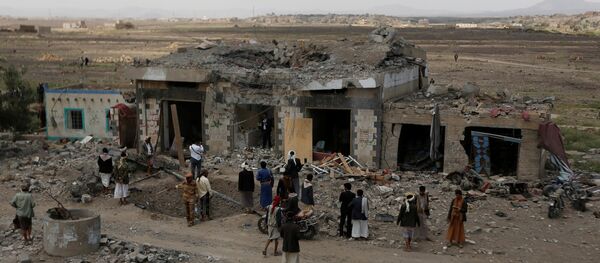 The development comes a day after Yemeni forces reportedly fired a Qaher M-2 ballistic missile at another Saudi Arabian military base near the kingdom's border city of Jizan, about 600 miles south of Riyadh.  
Earlier on Monday, Human Rights Watch said in a press release that Houthi forces violated the laws of war "by launching ballistic missiles indiscriminately at populated areas in Saudi Arabia on March 25, 2018", but also condemned the Saudi-led coalition's "indiscriminate" attacks on civilians in Yemen.
"Just as unlawful coalition airstrikes don't justify the Houthis' indiscriminate attacks, the Saudis can't use Houthi rockets to justify impeding life-saving goods for Yemen's civilian population," Middle East Director at Human Rights Watch Sarah Leah Whitson was quoted as saying in the release.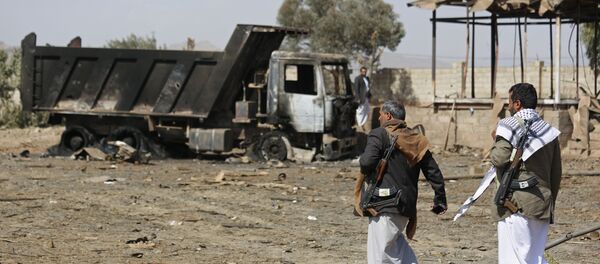 Yemen has been engulfed in a violent conflict between the government, headed by Yemeni President Abd Rabbuh Mansur Hadi and the Houthi movement in the country's north, also known as Ansar Allah.
Since March 2015, the Saudi-led coalition of mostly Persian Gulf countries has been carrying out airstrikes against the Houthis at Hadi's request.
Millions of Yemenis remain in need of immediate humanitarian aid, according to the United Nations. The Yemeni Ministry of Human Rights announced in a statement on March 25 that the Saudi-led war had left 600,000 civilians dead or injured during the past three years.