"We are making sure that terrorism funding is stopped in the countries that we are really related to because I feel related," Trump said before a meeting with Qatar's Emir Sheikh Tamim bin Hamad Al Thani.
Trump said the United Arab Emirates, Saudi Arabia, Qatar and others that were previously funding terrorism had stopped such activities.
He also praised the Qatari emir for strongly advocating against extremism in the Middle East.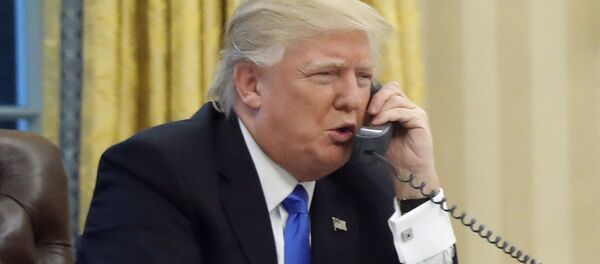 Qatari Emir Tamim bin Hamad Al Thani, in his turn, has stated that he agrees with US President Donald Trump that chemical attacks allegedly conducted by the government of Syrian President Bashar Assad should not be tolerated.
"We speak today and we see the suffering of the Syrian people. Me and the President, we see eye-to-eye that this matter has to stop immediately. We cannot tolerate a war criminal, we cannot tolerate someone who killed half a million of his own people. This matter should end immediately," Thani said.
Al Thani has noted earlier, that the US-Qatar economic trade has reached more than $125 billion and said the goal is to double the amount in the coming years.
The meeting between the two leaders came after Trump in June denounced Qatar for allegedly financing terrorist groups.
READ MORE: Trump, May, Macron Agree Not to Allow Chemical Weapons Use in Syria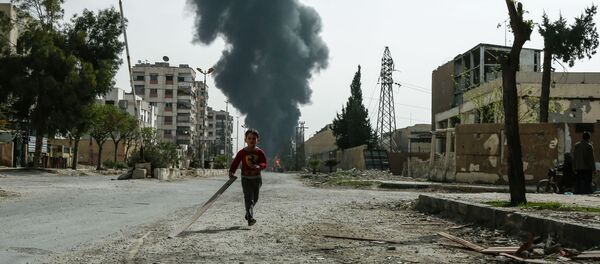 Trump has lodged the accusation after Saudi Arabia, Egypt, Bahrain, and the United Arab Emirates severed diplomatic relations with Qatar, accusing the country of supporting terrorism and interfering in their internal affairs.
Doha has denied the allegations and criticized the restrictive measures imposed against it.
Accusations Against Syria on Alleged Chemical Weapons Use
On April, 7, online media outlets citing Syrian militants accused Damascus of carrying out a chemical weapons attack in the town of Douma.
Trump accused Assad of the alleged attack but said Russia and Iran were responsible for the attack because they support the Syrian president. The US president said his administration would make a major decision within the next 24 to 48 hours on the type of response regarding Syria, adding that all options were on the table.
The Russian Reconciliation Center for Syria has categorically refuted the reports. The Center's representatives have visited the place of the alleged attack and questioned local doctors, who said that they had not received individuals with symptoms of chemical poisoning. Moreover, the Russian military said the information about the alleged attack originated from the non-governmental organization While Helmets are known to have links to terrorists.
In the summer of 2014, the Organization for Prohibition of Chemical Weapons confirmed that Syria's chemical weapons arsenal had been destroyed.