Xi Jinping in a phone talk with Theresa May has also said that Beijing doesn't approve the use of force in international relations.
China was one of the countries that backed the Russian-drafted UNSC resolution calling for an investigation into the recently reported chemical attack in the Syrian city of Douma in the Damascus suburb of Eastern Ghouta. Despite Beijing's support, the diplomats from the United States used their veto powers to block the draft. The US-drafted resolution was also vetoed by Russian diplomats.
Earlier this month, a number of media outlets and Western countries accused Damascus of using chemical weapons in the Syrian town of Douma on April 7. The Syrian government and Russia have refuted the allegations, saying that it was staged by local militants and the non-governmental organization White Helmets.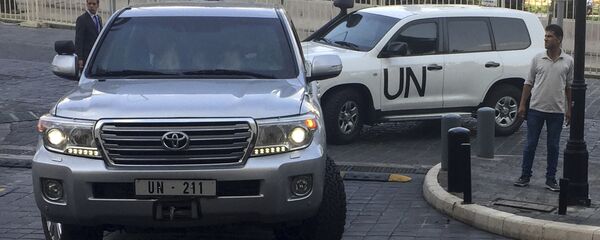 The Syrian leadership has denied any involvement in the attack and invited the experts from the Organization for the Prohibition of Chemical Weapons (OPCW) to investigate the reports.
Without waiting for the results of the international investigation, Western states accused the forces of Syrian President Bashar al-Assad of an attack. After that, the United States, the United Kingdom and France hit a number of targets in Syria early on Saturday in retaliation. 
READ MORE: West Realizes No Military Solution Possible in Syria Judging by Libya — Brussels
According to the Russian Defense Ministry, the three countries fired over 100 cruise and air-to-surface missiles, most of which were shot down by Syrian air defenses. According to Damascus, which has repeatedly said that it eliminated its chemical weapons stockpiles, the attack damaged Syrian infrastructure, and left three civilians injured.
Russian President Vladimir Putin stated on Saturday that the strikes had been carried out in violation of the norms and principles of international law.