Several groups of protesters are marching along the streets of Yerevan. One of the rallies has begun in front of the Yerevan State University. The protesters are gathering without their leaders, who have been detained by the police on Saturday and Sunday.
The protests have been ongoing in Armenia since April 13. After Sargsyan was appointed as the prime minister on Tuesday, the opposition activists announced the beginning of the so-called "velvet revolution" in the country.
READ MORE: Armenia: Protests Resume in Yerevan, Police Use Means of Restraint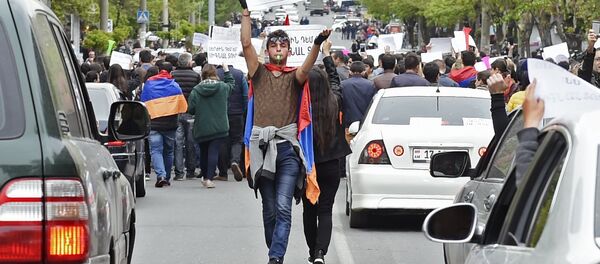 On Sunday, Sargsyan and opposition leader Nikol Pashinyan held three-minute talks without reaching any deal. Later that day, Pashinyan was detained by the police. Opposition lawmakers Ararat Mirzoyan and Sasun Mikaelyan were also detained shortly after Pashinyan's arrest.
Sargsyan, who served as Armenian president from 2008 until recently, had to step down due to presidential term limits. Armen Sarkissian was inaugurated as president on April 9 and became the first Armenian head of state to be elected by the parliament since the country switched from a presidential to a parliamentary system of government. Sargsyan's nomination for premiership has been criticized by the opposition as an attempt to stay in power, since the newly amended constitution transferred some of the presidential powers to the head of the government.