If the Trump administration withdraws from the Iran nuclear agreement and resumes anti-Iranian sanctions it will inevitably hit the US' European allies, says former French Ambassador to Iran Francois Nicoullaud, commenting on President Emmanuel Macron's recent visit to Washington.
"Donald Trump did not make concessions, and so did President Macron. Despite the feeling that an agreement has been reached, serious differences still persist," Nicoullaud told Sputnik France.
On Monday the French president embarked on an official three-day visit to Washington. One of the most burning issues was the Iran nuclear deal, also known as the Joint Comprehensive Plan of Action (JCPOA), reached between Iran, the EU and five permanent members of the United Nations Security Council — China, France, Russia, United Kingdom, United States — plus Germany on July 14, 2015.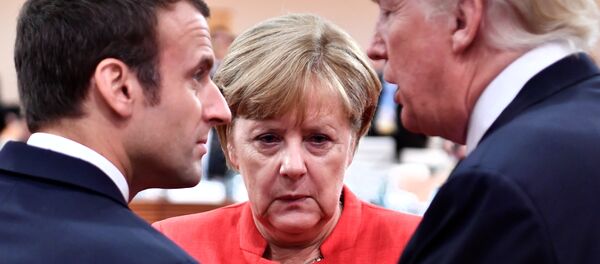 In accordance with the agreement, Tehran agreed to eliminate its stockpile of medium-enriched uranium, substantially diminish its stockpile of low-enriched uranium, thus dissolving the international community's concerns regarding its ability to create nuclear weapons.
However, Iran's ballistic missile program still prompts the EU and the US' discontent. For its part, Tehran has repeatedly signaled that it will neither renegotiate the nuclear agreement nor will it agree on restrictions on its missile program.
Although the French president admitted the possibility of negotiating a "new agreement," he insists on maintaining the original treaty with the addition of new provisions.
"I think that we are taking a big risk by starting a discussion on this issue again, because while France and the United States basically agree to resume the talks, Iran is categorically against it," the former French diplomat underscored. "Iran believes that the current agreement is quite enough, that one needs to start implementing it first, and then think about how to amend or supplement it. Iran has absolutely no intention to negotiate its ballistic program or discuss its role in the region."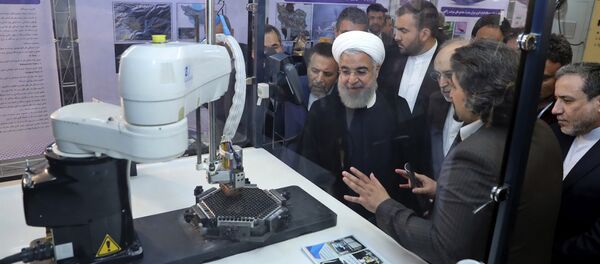 According to Nicoullaud, Macron's political maneuvers in regard to the Iran nuclear deal could be aimed at preventing Trump from taking radical steps.
Although the US president has repeatedly voiced his decision to rip the nuclear accord up, Macron stated, addressing the US Congress, that France will not leave the agreement.
Commenting on the JCPOA talks at George Washington University, the French president suggested that the US president might soon withdraw from it: "My view — I don't know what your president will decide — is that he will get rid of this deal on his own, for domestic reasons."
"Europe's economic interests may be affected, because if Trump withdraws from the agreement, hypothetically all American sanctions against Iran would be restored," the ex-Ambassador presumed. "And this means that indirect sanctions would be again imposed on third countries. The purpose of these sanctions is to prevent other countries from trading with Iran."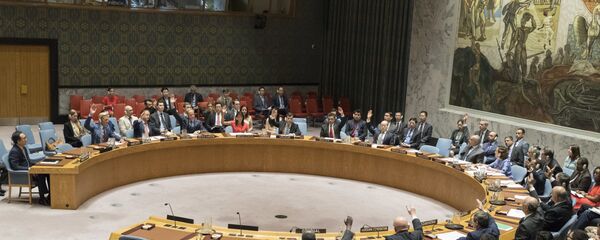 This could not but trigger deep concerns among EU member states: Following the lifting of anti-Iran sanctions, European corporations rushed to occupy niches in the Iranian market.
Besides, Nicoullaud noted, Europe has started to buy Iranian oil again: "For Europe [Iran] is an important source of oil. Therefore, the US sanctions which will 'turn off the taps' will cause a very, very big tension."
Meanwhile, Ali Akbar Velayati, a senior advisor to Iran's Supreme Leader Ayatollah Ali Khamenei, signaled that Tehran won't accept any amendments to the Iran nuclear deal.
Furthermore, he emphasized that if Trump exits the agreement, Iran would follow the suit.
Any change or amendment to the current deal will not be accepted by Iran… If Trump exits the deal, Iran will surely pull out of it… Iran will not accept a nuclear deal with no benefits for us," Velayati stressed.
Commenting on Macron's remark about the possibility to revise the Iran nuclear deal, Moscow emphasized that it stands for the preservation of the existing agreement, as there is no alternative to it.
"We are in favor of maintaining the JCPOA in its current form and we believe that there is no alternative to it so far, this has been repeatedly stated at various levels," Kremlin spokesman Dmitry Peskov said on April 25.
The views expressed in this article are solely those of the speaker and do not necessarily reflect the official position of Sputnik.