French police on Tuesday detained 200 people, who took part in clashes with law enforcement and committed acts of vandalism during the May Day demonstrations in Paris, head of the Paris Police Prefecture Michel Delpuech said.
"About 40 people were sent to police stations," Delpuech said at a press conference, as quoted by the BFMTV broadcaster.
The May Day demonstration in Paris started from the Place de la Bastille. About 1,200 people in black outfits and masks were among the demonstrators, according to the police. They began smashing windows of restaurants and cafes with stones and hammers and set fire to a car.
Initially, police were not interfering, but later they have used tear gas and water cannons against protesters near capital's Gare d'Austerlitz railway station, according to a Sputnik correspondent.
The Sputnik correspondent was tear-gassed after French police responded with a riot control agent to disperse black-clad protesters.
French Interior Minister Gerard Collomb strongly condemned violent unrest.
Je condamne avec fermeté les violences et dégradations commises en marge du défilé syndical du #1erMai à Paris.
Tout est mis en œuvre pour faire cesser ces graves troubles à l'ordre public et appréhender les auteurs de ces actes inqualifiables.

— Gérard Collomb (@gerardcollomb) May 1, 2018
International Workers' Day, also known as Labor Day, is observed across the globe on May 1.
© AP Photo / Francois Mori /
Activists smash windows of a McDonald's restaurant after it was hit with petrol bombs during the traditional May Day rally in the center of Paris, France, Tuesday, May 1, 2018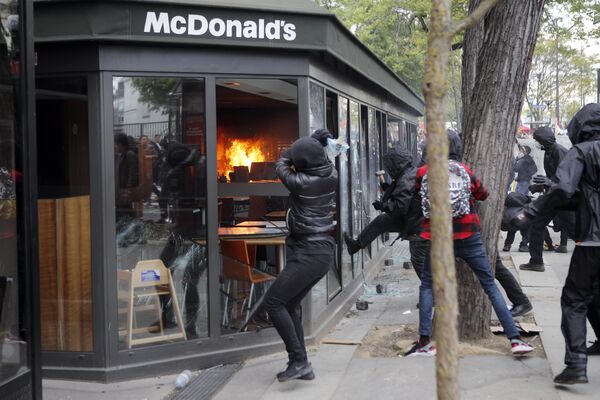 Activists smash windows of a McDonald's restaurant after it was hit with petrol bombs during the traditional May Day rally in the center of Paris, France, Tuesday, May 1, 2018
© AP Photo / Francois Mori /
© Sputnik /
May Day labour union march in Paris, France, May 1, 2018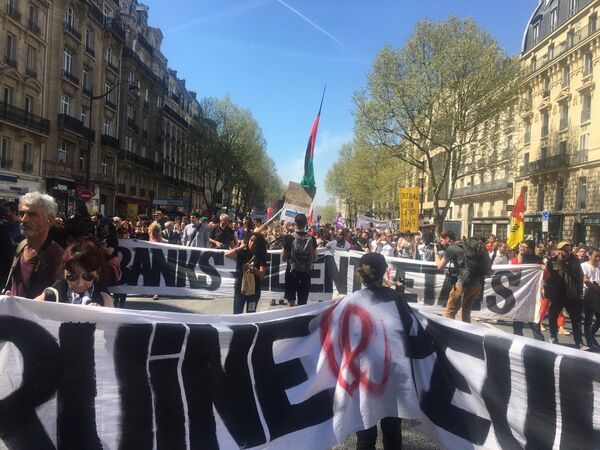 May Day labour union march in Paris, France, May 1, 2018
© Sputnik /
May Day labour union march in Paris, France, May 1, 2018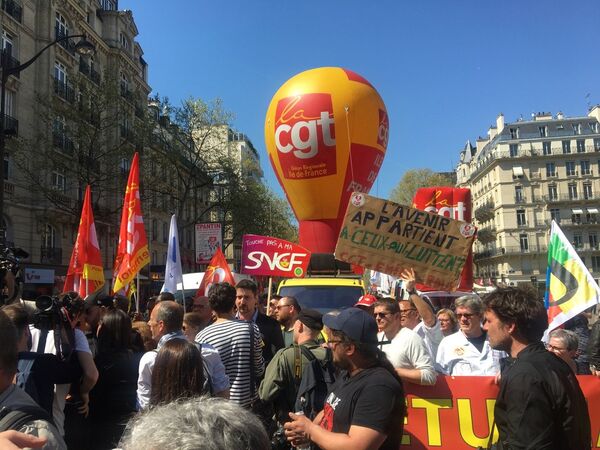 May Day labour union march in Paris, France, May 1, 2018