New Delhi (Sputnik) — Among the top 15 most polluted cities based on the amount of particulate matter under 2.5 micrograms found in every cubic meter of air, 14 belong to India, according to the WHO report based on data collected from over 4,300 cities all over the globe. PM2.5 includes pollutants such as sulfate, nitrates and black carbon, which pose the greatest risks to human health. 
READ MORE: New Delhi Arms Itself With Anti-Smog Guns to Combat Lethal Pollution
The report claims that nine out of 10 people breathe air containing high levels of pollutants. "Updated estimations reveal an alarming death toll of 7 million people every year caused by ambient (outdoor) and household air pollution," the report reads.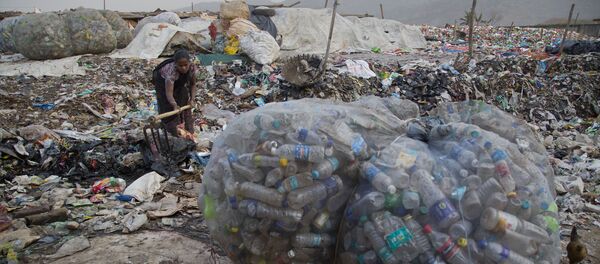 Meanwhile, the WHO applauds the efforts of the Chinese administration to clean the air of cities like Xingtai and Shijiazhuang.
"There is a big step at the government level (in China) declaring war on air pollution. We would be very happy if we would see a similar movement now in India, which is one of the countries for which we are particularly concerned, although there are good initiatives which can be put in place quickly, still the levels are very high and we would like to see a similar decision and leadership," Maria Neira, WHO's head of public health, said while releasing the report.   
READ MORE: Indian Hindu Group Burns 50 Tons of Wood to 'Curb Pollution'
In the report presented on the basis of data collected between 2010 and 2016, India's Kanpur tops the list of most polluted cities in the world with a PM 2.5 concentration of 173 micrograms per cubic meter, followed by Faridabad, Varanasi, and Gaya. India's capital city Delhi occupies the sixth spot on the list. Besides the 14 Indian cities, the list has Kuwait's Ali Subah Al-Salem at the 15th spot with a PM 2.5 concentration of 94 micrograms per cubic meter.
Nevertheless, the report has some words of appreciation for the Indian government's Pradhan Mantri Ujjwala Yojana Scheme. "In just two years, India's Pradhan Mantri Ujjwala Yojana Scheme has provided some 37 million women living below the poverty line with free LPG connections to support them to switch to clean household energy use," the report reads.