On Tuesday, EU foreign policy chief Federica Mogherini said that after talks with the foreign ministers of the United Kingdom, France, Germany, and Iran in Brussels that the sides had agreed to work out practical solutions in response to the US withdrawal from the Joint Comprehensive Plan of Action (JCPOA), known as the Iran nuclear deal, within the next few weeks. In particular, the European Union and Iran would maintain and deepen economic ties, including in the area of oil and gas supplies.
READ MORE: Iran Deal: 'Trump's Decision To Pull Out Isolates US Rather Than Iran' — Prof.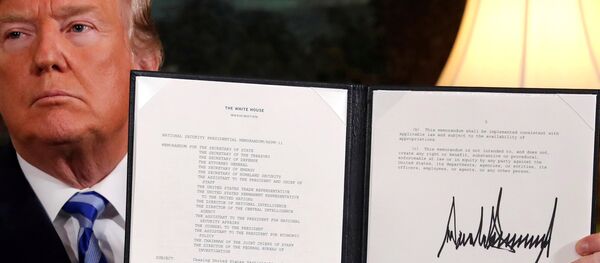 On May 8, US President Donald Trump announced his decision to withdraw the United States from the Joint Comprehensive Plan of Action, also known as the Iran nuclear deal. He also vowed to reinstate the sanctions against Iran that were lifted as a result of the agreement.
The foreign ministers of Germany, the United Kingdom and France have issued a joint statement saying their countries will stay in the JCPOA even if the United States pulls out of it.
In 2015, Iran, China, France, Germany, Russia, United Kingdom, United States, and the European Union created the JCPOA, under which international sanctions on Iran would gradually be lifted in exchange for Tehran maintaining the peaceful nature of its nuclear program.