The world's most wanted whistleblower, Edward Snowden, took to Twitter to claim that the newly-appointed CIA director had participated in a cruel torture program, as well as ordered the destruction of video evidence.
Note: Gina Haspel participated in a torture program that involved beating an (innocent) pregnant woman's stomach, anally raping a man with meals he tried to refuse, and freezing a shackled prisoner until he died. She personally wrote the order to destroy 92 tapes of CIA torture. https://t.co/09vWp7CifU

— Edward Snowden (@Snowden) 18 мая 2018 г.
The US Senate confirmed Gina Haspel's nomination as the next director of the Central Intelligence Agency with a vote of 54 to 45 on Thursday. According to recently declassified records, she supervised the torture of a detainee, including waterboarding, and ordered the destruction of the video evidence, the US National Security Archive at George Washington University stated.
READ MORE: Haspel's Role in CIA Torture Program 'Neither Minor Nor Incidental' — Senator
Last week, US Senator John McCain refused to vote in favor of confirming Haspel's appointment, as he believes that she is unfit to run the CIA due to her "disturbing role in overseeing the use of torture by Americans."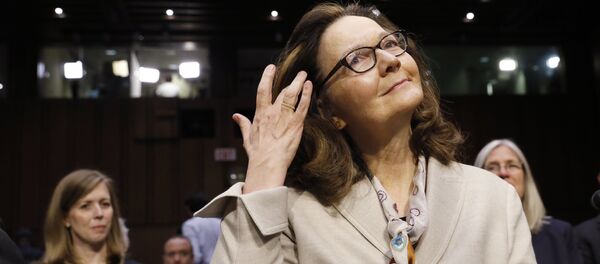 During her Senate hearing on May 9, Haspel
promised
not to resume the detention and interrogation program under her leadership, albeit did not state that torture tactics were immoral.
61-year-old Haspel, who will become the first woman to hold the position of CIA director, reportedly oversaw the interrogation of a detainee at a black site in Thailand, who was waterboarded 83 times over the course of a single month.