New Delhi (Sputnik) — The Arakan Rohingya Salvation Army (ARSA) killed and abducted a significant number of civilians of Hindu faith in Myanmar's Rakhine state, an investigation carried out by Amnesty International has revealed.
READ MORE: Muslim Militants in Myanmar are India's New Security Headache
According to the report, on August 25, 2017, ARSA attacked the Hindu community in the villages of Ah Nauk Kha Maung Seik and Kha Maung Seik in northern Maungdaw Township. They rounded up all 69 Hindu men, women, and children, before executing 53 of them. Out of the 69, 20 were men, 10 women, and 23 children, 14 of whom were under the age of eight, according to the report.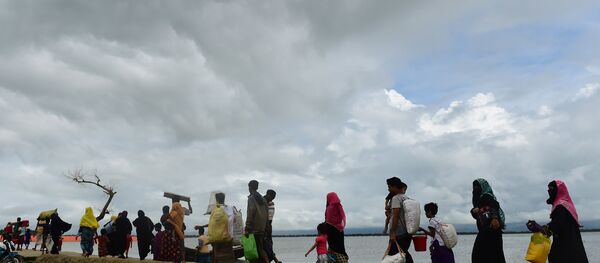 21 December 2017, 15:24 GMT
On the same day, all of the 46 Hindu men, women, and children in the neighboring village of Ye Bauk Kyar also reportedly disappeared. Combined with those from Ah Nauk Kha Maung Seik, the total death toll is believed to be 99.   
All eight survivors interviewed by Amnesty International said they either saw Hindu relatives being killed or heard their screams.
"They slaughtered the men. We were told not to look at them… They had knives. They also had some spades and iron rods…. We hid ourselves in the shrubs there and were able to see a little… My uncle, my father, my brother — they were all slaughtered," Raj Kumari, 18, one of the survivors told Amnesty.
READ MORE: India Watchful of Rohingya, Fearing Radicalization by Pakistan Militants
ARSA was formed in 2012 in reaction to the alleged systematic discrimination by the state of Myanmar against the Rohingya community in Rakhine state.
"It has been very difficult to get people to open up about ARSA. They are a very elusive group, and there is a fear among the other communities with informants being killed by the group in Bangladesh last year," Laura Haigh, an Amnesty researcher who helped compile the report, said.

6 February 2017, 15:00 GMT
The report has generated outrage among the public in India. It is feared that the approximately 40,000 Rohingya refugees who have taken shelter in the country could lose the sympathy of Indian society as well as the government.
"Horrendous and unforgivable. Rohingya militants have massacred hundreds of Hindus in Myanmar. Rohingyas in Myanmar have been victims of a terrible genocide. But that is no justification for attacking innocent people. Rohingyas will lose public sympathy if this happens," Prashant Bhushan, a senior lawyer who has been fighting the Indian government's plan to deport 40,000 Rohingya refugees said.
Rohingyas are threat to India's internal security..it's a time bomb,better to diffuse in time!
They mercilessly butchered Buddhist n Hindus in Myanmar.
Now every1 should know why few Kashmiri leaders helped Rohingyas to settle in Jammu!
Wake Up India🙏https://t.co/dPrLFdaL5T
— Maj Surendra Poonia (@MajorPoonia) May 23, 2018
​Rohingya militants slaughtered 99 innocent Hindus in Myanmar. Rohingyas were tortured, raped, killed & driven out by Myanmar army,not by Hindus. Then why did they hate Hindus?Is it because Hindus are non-Muslims?No idea how many jihadis are among 10 lakh Rohingyas in Bangladesh!
At least 300,000 Rohingyas have taken shelter in Bangladesh since the 2017 violence; scores of them have been entering India through human trafficking corridors along the West Bengal-Bangladesh border. On Monday, Manipur police arrested eight Rohingyas in possession of fake cards holding India's unique identification numbers.
Those who wants to know how #Rohingya enters India, read this investigations by Manipur Police. They have agents in Kolkata, Imphal, Delhi and even J&K. 8 Rohingya arrested today also. pic.twitter.com/13nZHLWdMD

— Naorem Mohen (@laimacha) May 22, 2018