According to government's press service, the ceremony will start at 11:30 a.m. local time (09:30 GMT) in Catalan government's palace. It will be attended by 13 new ministers along with their families, as well as newly elected Catalan President Quim Torra and President of the Catalan Parliament Roger Torrent. After the ceremony, the new government will hold its first working meeting.
READ MORE: Putin Backs Spanish Integrity Amid Russian Meddling Claims in Catalonia
Earlier on Friday, in the Official Gazette of the Government of Catalonia, the Spanish government published a decree on the new regional government appointments, El Confidencial reported. The document, which comes into force today, includes names and positions of new Catalan government members. According to the newspaper, this decree effectively revokes Article 155 of the Spanish Constitution, under which Madrid imposed direct rule over the autonomous region late last year.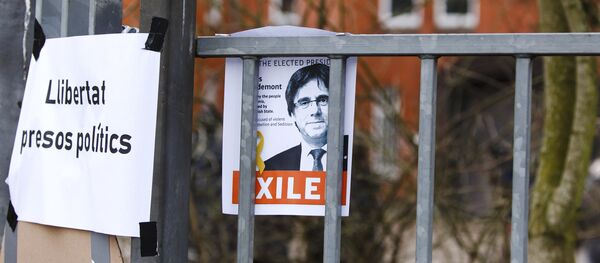 In May, the Catalan parliament elected Torra as president of the autonomous region. He took the oath of office on May 17 but did not
swear allegiance
to either the Spanish king or constitution.
Two days later, the newly-elected president announced his new government. The posts were mainly given to former advisers of his predecessor Carles Puigdemont, two of whom are currently in pre-trial detention in Madrid, and two others who are in exile in Belgium. The politicians are facing charges related to the October 1 independence referendum.
Madrid was not satisfied with the initial list, classifying the decision to give individuals who are "evading justice" or currently in pre-trial detention government positions as a "provocation." Madrid also stated that only the central government was eligible to authorize a decree on government appointments and would analyze the relevant document published by the Catalan authorities.
READ MORE: German Prosecutors Seek Catalan Ex-Leader Puigdemont's Extradition to Spain
As a result, Torra postponed putting the new government into power and, on Tuesday, signed a new decree, which did not include the four politicians facing charges in Spain. The central government then published the revised decree earlier on Friday.
On October 1, Catalonia held an independence referendum, which was not recognized by the central authorities. The results showed that the majority of Catalans supported secession, and the regional parliament unilaterally announced independence later in October. In response, Madrid imposed direct rule over the autonomous region, dissolved the Catalan parliament and called a snap election. Several pro-independence leaders were jailed, while others fled the country.