"We strongly condemn this intimidation campaign from public officials and we call on Ukrainian authorities to put an end to any act of harassment targeting journalists and representatives of journalists' organizations," IFJ and EFJ General Secretaries, Anthony Bellanger and Ricardo Gutierrez, said in a statement.
The IFJ and EFJ cited several cases of threats against journalists in Ukraine, including a list of 26 so-called "traitors," published by a spokeswoman of the General Prosecutor of Ukraine on Facebook earlier this week for their criticism of Ukrainian law enforcement authorities after a faked murder of Russian journalist Arkady Babchenko.
READ MORE: Kirill Vyshinsky Says Trial in Ukraine Resembles 'Torture,' Asks Putin for Help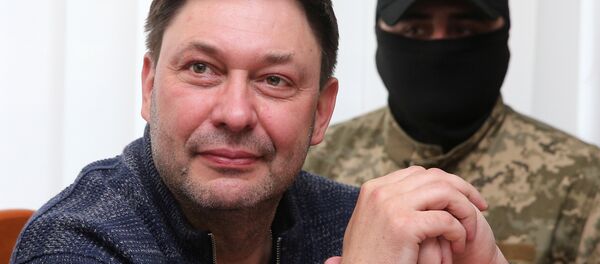 Another case, cited by the federations, concerned Ukrainian parliament first vice-speaker Iryna Gerashchenko's verbal attack on Ukraine's National Union of Journalists (NUJU) on May 16, when she accused NUJU of cooperation with "Kremlin propagandists."
On Tuesday, Babchenko, who moved to Ukraine in 2017, was reportedly shot dead near his apartment in Kiev. However, on Wednesday, he showed up at a press conference of Ukrainian Security Service (SBU) chief Vasyl Hrytsak, who said that reports suggesting Babchenko was murdered were part of an operation to thwart an assassination attempt against him.