According to the journalist, unknown people in civilian clothes approached Vysokovich on June 1 at the entrance of the courtroom, after one of the women attending the trial had accused her of working for the First Baltic TV channel, which is banned in Ukraine.
READ MORE: Kirill Vyshinsky Says Trial in Ukraine Resembles 'Torture,' Asks Putin for Help
After that, the journalist was escorted to a car and brought to some guarded building under the pretext that they need to protect her from angry Ukrainian patriots.
"There were many questions about my work for the Baltic Channel One, with which I have not cooperated for a long time. To the question about whom I am covering the trial of Vyshinsky for, I honestly replied that I was cooperating with RIA Novosti. After that, one of the men said that they would be ready to let me go, but their bosses 'demand blood' and 'promotion of the situation,' so you need to sign some documents," Vysokovich said.
After several hours of conversation, which was not properly recorded, the journalist was forced to sign a document on her readiness to cooperate with the security service and leak information about the employees of RIA Novosti, according to Irina.
"I was told that my pseudonym would be 'Mila' and that they will let me go and contact me later, otherwise I would stay here for a long time. Before I was released, I was forced to say on camera that I had no complaints against SBU," Vysokovich underlined.
After the journalist had been released, she returned to Lithuania, but because of the incident she could not complete the editorial task and pass the news about the trial of Vyshinsky.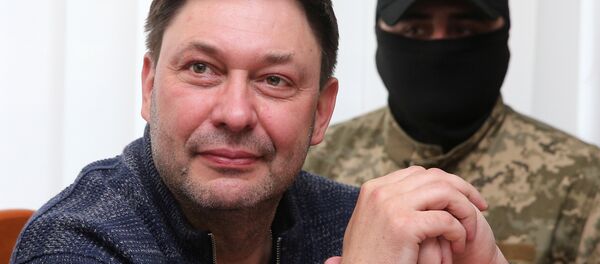 Vyshinsky was detained in Kiev on May 15. He is suspected of supporting the self-proclaimed Donetsk People's Republic (DPR) and Lugansk People's Republic (LPR) and high treason. On Thursday, the Kherson City Court decided to place Vyshinsky in pre-trial detention for 60 days without bail.
The Russian Foreign Ministry classified Kiev's actions against RIA Novosti Ukraine as an "outrage." Russian Foreign Minister Sergey Lavrov stated that the actions of the Ukrainian authorities with respect to RIA Novosti Ukraine journalists were unacceptable, while the Russian embassy has delivered two protest notes to the Ukrainian Foreign Ministry demanding to stop violence against media workers.