Germany's Wintershall and Uniper, France's Engie, Anglo-Dutch Royal Dutch Shell and Austria's OMV may find themselves in dire straits over the joint Russian-European Nord Stream 2 project.
Earlier, Foreign Policy magazine reported that the Trump administration is mulling the imposition of sanctions on European companies involved in the Gazprom-led project. "They [the Trump administration] will stop at nothing to block Nord Stream," one of the magazine's sources said.
The threat is nothing new: on March 21, US State Department spokeswoman Heather Nauert claimed that Nord Stream 2 "would provide Russia another tool to pressure European countries, especially countries such as Ukraine," and threatened European companies with sanctions under the Countering America's Adversaries Through Sanctions Act (CAATSA), signed by US President Donald Trump into law on August 2, 2017.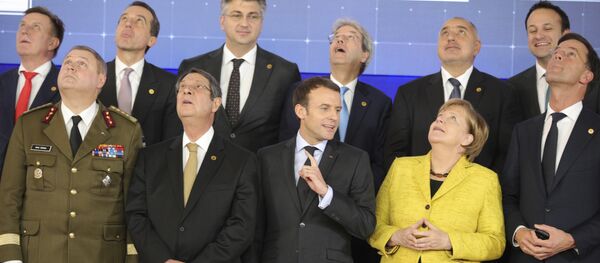 On April 3
Trump openly criticized Berlin
for giving the green light to the endeavor: "Germany hooks up a pipeline into Russia, where Germany is going to be paying billions of dollars for energy into Russia," the US president said, adding that "that's not right."
On May 23 Secretary of State Mike Pompeo told the US House Foreign Affairs Committee that the US would "continue to push [for] Nord Stream 2 to be ended." The statement was accompanied by calls from US ambassador to the EU Adam Shub, who urged the US' European allies to jointly oppose Nord Stream 2.
Responding to Washington's threats, Thilo Wieland, a board member of German energy company Wintershall, told Sputnik on May 24 that "the United States is openly using the sanctions mechanism to promote its interests on the European gas market."
Wieland highlighted that while the US is apparently seeking to expel Gazprom from the European energy market to promote its own liquefied natural gas (LNG), "it would take the United States to send 275 tankers with LNG a year to deliver the same amount of gas [55 billion cubic meters of gas a year] as the Nord Stream 2 pipeline would." According to the businessman, Washington is unable to meet Europe's demands overnight.
Brage Platform Wintershall Norge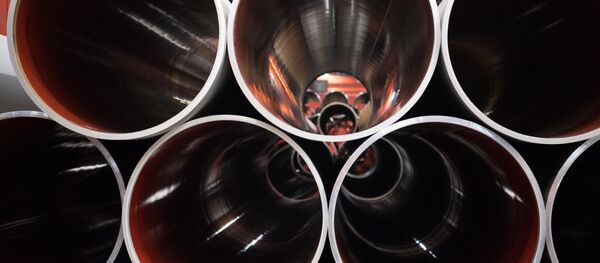 However, France's Engie signaled last summer that it would withdraw from the project in case the US imposes sanctions. French businessmen have found themselves in a difficult situation amid the resumption of anti-Iranian sanctions by Trump. French petroleum company Total is set to leave the Iranian market.
While Royal Dutch Shell is still evading discussing the issue, Austria's OMV still signals its support to Nord Stream 2. "The interference of the US government clearly shows me that the realization of economic interests is achieved through sanctions," CEO of the Austrian energy giant OMV Rainer Seele said in May.
It is believed that the issue of OMV's participation in Nord Stream 2 may come into focus during President Putin's visit to Austria on June 5, which marks the 50th anniversary of the launch of the USSR's gas deliveries to the country.
Trump Increasing Pressure
Meanwhile, the US is trying to exert further pressure on Germany, which may become a major European energy hub in case Nord Stream 2 becomes operational. During his April summit with German Chancellor Angela Merkel, Trump reportedly asked the chancellor to halt the Russian-led endeavor in exchange for easing trade tariffs on aluminum and steel.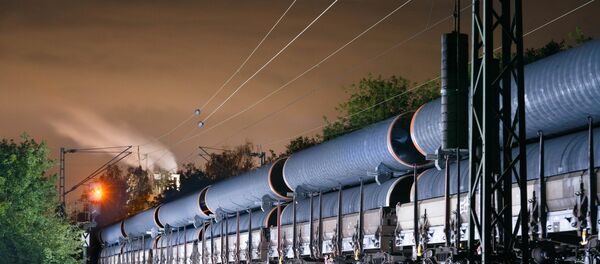 The stakes could become even higher as the Trump administration is considering the imposition of additional tariffs (up to 25 percent) against foreign car imports. It could deal a substantial blow to the Volkswagen Group, as well as to Mercedes-Benz maker Daimler, and BMW.
According to Fortune, the speculation has already resulted in the slump of German carmakers' stocks: Volkswagen and Daimler each fell 2 percent, BMW lost 1 percent, while the Germany DAX Index also dropped about 1 percent."
"In total, since that report emerged, Mercedes-Benz maker Daimler, Volkswagen, and BMW have together shed $20.2 billion in market value," the media outlet emphasized.
There will be big news coming soon for our great American Autoworkers. After many decades of losing your jobs to other countries, you have waited long enough!

— Donald J. Trump (@realDonaldTrump) 23 мая 2018 г.
​It is believed that Trump may use the German cars card in the upcoming G7 negotiations with Merkel.
Meanwhile, the White House's tariffs on aluminum and steel came into force on May 31, prompting a storm of criticism from Washington's European allies.
Responding to the criticism, Commerce Secretary Wilbur Ross noted: "I'm sure we will [talk], and there can be negotiations with or without tariffs in place. God knows, there are plenty of tariffs the EU has on us. So it's not that you can't talk just because there are tariffs."
When you're almost 800 Billion Dollars a year down on Trade, you can't lose a Trade War! The U.S. has been ripped off by other countries for years on Trade, time to get smart!

— Donald J. Trump (@realDonaldTrump) 2 июня 2018 г.
​For his part, Trump tweeted on June 2: "When you're almost 800 Billion Dollars a year down on Trade, you can't lose a Trade War! The US has been ripped off by other countries for years on Trade, time to get smart!"