Iran earlier said it plans to increase its capacity for uranium enrichment but it would remain within the rules of the deal.
Sputnik discussed Iran's nuclear program with Dr Eitan Barak, Department of International Relations, Hebrew University of Jerusalem.
Sputnik: It seems like the big announcement of the day is that Iran plans to increase its capacity for uranium enrichment, of course, within the boundaries of the JCPOA, what does this step symbolize? Does this show that it was a mistake to pull out of the JCPOA?

Dr. Eitan Barak:
First it should be clarified that Ayatollah Khamenei (Iranian Supreme Leader) said that only under conditions that he stated on Monday, the condition that the nuclear deal will in fact fall apart after the US withdrawal last month, and I think that he rightly stated that the Iranian nation won't tolerate to be under both — sanctions and nuclear restrictions. However, as long as the European signatories to the accord, which Netanyahu is currently visiting, meaning France, Germany, will stick to the deal and also make sure that the European companies will not surrender to the US regulation and threat of sanctions I don't think it will be materialized, that's of course my view.
Sputnik: What have you seen as Israel's reaction to the statement?
Dr. Eitan Barak: Since it was published only today (on Tuesday) Israel's reaction has yet to be seen. I can assume that Netanyahu will take advantage of it in his campaign, in fact, to force the European companies to withdraw from the deal as well, or what he hopes for eventually that Iranian leaders will agree to negotiate the issue of the nuclear missile program. And the second one which is, of course, their influence in the Middle East in general and in Syria in particular, but those two issues are not related to the nonproliferation regime.
Sputnik: What do you think are the main goals of Netanyahu as he meets with European leaders?
Dr Eitan Barak: The main goal is to pursue them to take the same side as Trump. In fact, Trump adopted Netanyahu's point of view and this is exactly what he wants to do with the Europeans, it will be problematic for Israel as well as for the United States if the European states adhere to the accord.
Sputnik: We saw the meeting with Angela Merkel and, of course, he didn't get anywhere with her, and some have said that this is quite a failure on his part that he hasn't gotten anywhere with her, also many experts feel that it's very unlikely that he'll have any success in convincing Theresa May or even Macron, who was in the United States trying to convince Donald Trump to stick to the accord. That was his goal, and even after Donald Trump left it he said he's not leaving anyway, so certainly you don't think that Israel or Benjamin Netanyahu will be able to convince now all those leaders who stood up to the United States to drop the accord?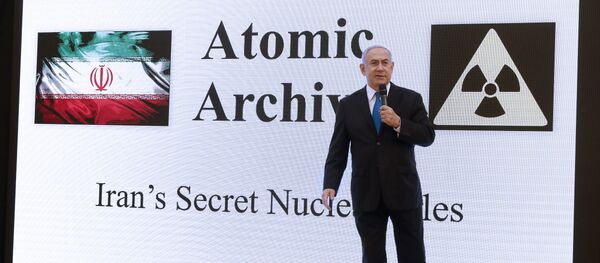 Dr. Eitan Barak:
He must show Trump that he did not stay aside and that he's doing whatever he can to assist the issue, and I think the European leaders are faced with a great dilemma. They know that Iran did not violate the deal, in fact, the latest IAEA (International Atomic Energy Agency) report confirms it, but the US has adopted Israel's view and now they're stuck in the middle. Are they willing to confront the United States and to pay the price because of Iran? My guess is that eventually they will try to persuade Iran to provide some, even vague, promising to mitigate its activities on its missile program, it would show that they have not ignored the US campaign which will enable them to stick with the deal and the companies are still in a dilemma, they don't know what to do.
Sputnik: I think that there perhaps seems to be some support for the idea that yes, we should try to create some kind of a situation where Iran would be willing to control or not continue developing ballistic missiles, but I think the problem is this point of view that you tear up the old agreement before having a new one, or before having an amendment to the agreement, and there was no attempt to really go in and try to have fresh talks, there was just this threat that we are going to drop out of it, and I think that's what the European leaders have all made it clear that, perhaps, it is not the best agreement in the world, but it is effective and has been effective, and that's very important in doing something very important in keeping Iran from proliferating nuclear weapons. It seems now that Israel has never been a signatory or a supporter of the JCPOA, whereas the United States was a supporter and they pulled out of an internationally recognized agreement…
Dr. Eitan Barak: I fully agree with you on that point. I think that the deal wasn't an achievement for Israel and, of course, it is not perfect but this is life, you compromise, and it's better than nothing. Let's say that Iran withdraws from the accord, withdraws from the NPT and then the only thing that would be left (for it to do) because the sanctions eventually Iran will surrender, but I'm not sure that will happen. In fact, the case of North Korea shows that once you have nuclear weapons then you are being treated with respect and so on. And Iran stated, in fact, that the two issues, meaning it's influence in Syria and the missile program, are non-negotiable.
The views and opinions expressed in this article are solely those of the speaker and do not necessarily reflect those of Sputnik.