Iranian analyst and businessman Sharoj Habibi, who founded a consulting firm for Spanish companies willing to expand in Iran, told Sputnik that the goal of the US policy in Iran was to create chaos in Iran's trade relations after pulling out from the 2015 nuclear accord.
"One of the main goals, the US pursued with these announcements, was to create uncertainty in the trade relations between Iran and foreign companies. … Now most of the Spanish companies are pessimistically minded," he told Sputnik.
According to the analyst, although Washington has made no definite steps toward fully pulling out from Iran, the Spanish companies he is acquainted with are in a situation where their billion-dollar treaties, signed with Iran, are hanging on a thread.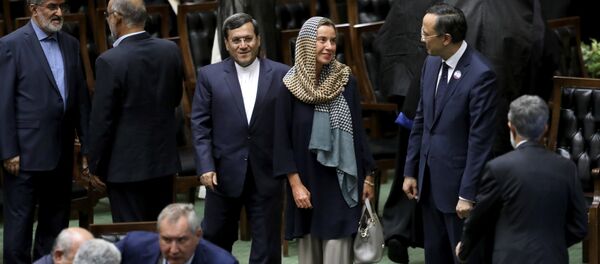 Cristóbal Cutillas, overseeing trade with the Middle East in TAIM Weser, told Sputnik,  "Everything lies in Trump's hand." Although the company states that it hasn't felt any changes yet, Cutillas stressed that "one only has to wait what is going to happen," and there's no reason to hurry.
Tubacex, a Spanish company, which signed a deal worth $615 million with the National Oil Company of Iran (NIOC) in 2017, also commented to Sputnik, saying, "It's too early to evaluate this question."
European countries, which opposed Trump's withdrawal from the deal, have announced their commitment to the 2015 JCPOA and fight for their companies' interests. The National Association of Equipment Manufactures (Sercobe) also declined to comment on the matter, citing guidelines from the organization's top management; although in 2014, before the Iran deal was signed, they voiced opposition against the anti-Iranian sanctions.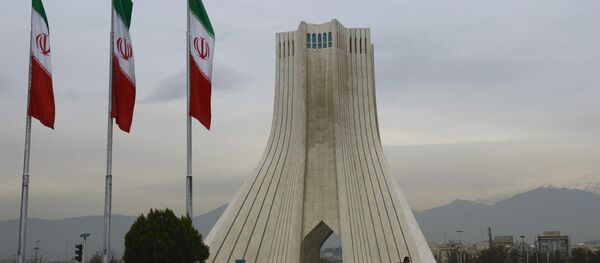 Sharoj Habibi explained their refusal to comment with fear for potential punitive measures from the US, as many of them work with American counterparts. He also pointed out that even those who haven't worked with Iran are also afraid to cooperate with Iran now even more than before. Such a tendency is understandable when "the US Administration claims that it will hunt down and punish the European companies, cooperating with Iran."
According to the analyst, the damage is done already due to the uncertainty. Sharoj Habibi told Sputnik that many of his clients, asking for consultations, fear for their security in Iran. He also pointed out that the Western media hardly provides any good advertising, "deforming the reality" in Iran. He revealed that he talked to several Spanish companies, but they preferred not to publish his statements.
"These are some kind of invisible sanctions; their aim is to create uncertainty. They do everything to make companies, dealing with the countries that the US frowns upon, to surrender," Habibi told Sputnik.
READ MORE: Boeing Refuses to Deliver Any Aircraft to Iran Amid US Sanctions Threat
He brought up several Spanish tech companies working with Iran, who got "warnings" from their US counterparts. Although no agreement states such a clause, they may lose their supply licenses if they continue cooperating with Iranian-based companies, according to the analyst.
However, goods from both European and US companies manage to enter the Iranian market despite all the restrictions. Companies such as Apple, which doesn't distribute its goods in Iran, still sell their products in the United Arab Emirates, from where they are imported to Iran.
The views and opinions expressed in this article are those of the speakers and do not necessarily reflect Sputnik's position.