Trump verbally vowed to end US-South Korean "war games" following the summit with Kim in Singapore on June 12. The "Ulchi Freedom Guardian" drill will not take place this year as it did last year, an official told Reuters.
Meanwhile, Pentagon spokeswoman Dana White said in a press release on Monday that the United States and South Korea have suspended planning for a joint military exercise near the Korean peninsula that was scheduled to take place in August.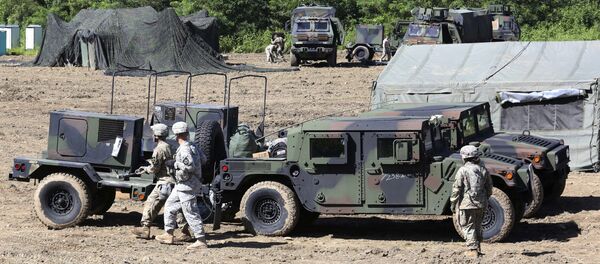 27 August 2017, 13:30 GMT
"Consistent with President Trump's commitment and in concert with our Republic of Korea ally, the United States military has suspended all planning for this August's defensive 'wargame' (Freedom Guardian)," White said.
There have been no decisions on subsequent war games, White said. Also, this decision has not affected Pacific exercises outside of the Korean Peninsula, White added.
US Secretary of Defense Jim Mattis, Secretary of State Mike Pompeo and National Security Advisor John Bolton will meet later this week to discuss the issue, White said.
Last year, Pyongyang requested the UN Security Council to discuss Ulchi Freedom Guardian on the grounds that it was essentially a rehearsal for an invasion of North Korea.
The drill involves some 17,500 of the roughly 28,000 US troops in South Korea, according to the Pentagon, and it involves the United Nations Command forces from seven countries, including Australia, Canada, Columbia, Denmark, New Zealand, the Netherlands and Britain.