"Do I want to play against Spain in the knockout stage? There will be no easy opponents for Russia in the Round of 16. We will try and make sure our country can continue celebrating," Cheryshev said after the game. We need to think about the next game and not get too excited. We need to aim to beat Uruguay," Cheryshev added.
Герой @Cheryshev #WorldCupRussia2018 pic.twitter.com/73o5fRYbr0

— Михаил Биюн (@bioun) 19 июня 2018 г.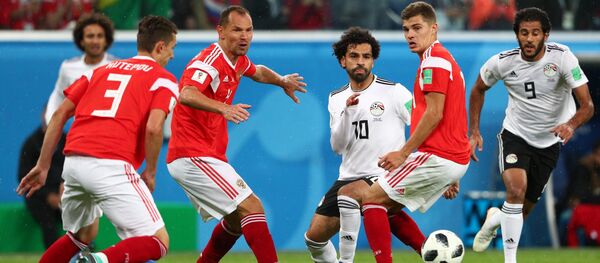 Russia defeated Egypt 3-1 in their Group A encounter on Tuesday. Cheryshev scored Russia's second goal of the match with a good close range finish, following an excellent cross pass by Mario Fernandes. The forward, who plays professionally in Spain, is the tournament's joint top scorer with three goals.
Meanwhile, Ex-National team's head coach Boris Ignatyev told Sputnik on Tuesday night that forward Denis Cheryshev gave Russia "aggression", which was noticeable during the game against Egypt.
"We lacked players with the speed and dynamism that Cheryshev has. He played on the flank… He gave the team a lot of aggression. Cheryshev is a… player who doesn't fear anything and forces the opponent to make mistakes with his constant pressure. He and Aleksandr Golovin give so much to the team, although I would like to say the whole midfield played well today," Ignatyev said.
He also added that the team had become more "mature" due to defender Sergei Ignashevich being called-up.
Moreover, forward Artem Dzyuba praised his teammate's performance and the collective winning spirit.
A massive goal for @TeamRussia in their quest to reach the knock-out stages! #RUSEGY pic.twitter.com/xYfGH1Tx61

— FIFA World Cup 🏆 (@FIFAWorldCup) 19 июня 2018 г.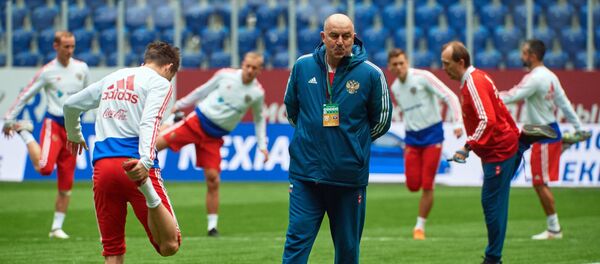 "Cheryshev is the man of the match? We are a team of 23 brothers! His victory is ours, he deserves it just like any other player… We are happy people! We are 23 happy people who overcame everything, made it into the national squad and won," Dzyuba told reporters after the game.
Dzyuba added he would like to test his strength against Uruguay forwards Luis Suarez and Edinson Cavani.
"We will look to play our own game and we will be playing as a team. Cavani and Suarez are unbelievable, but we want to test our strength," the forward said.
The former player of the Soviet Union's football team Sergey Rodionov and now FC Spartak Moscow General Director told Sputnik Tuesday night that the Russian national football team's coaching staff had done a huge job while preparing for the 2018 FIFA World Cup.
Moment of the Day 👀

When Artem Dzyuba netted @TeamRussia's third against #EGY in Saint Petersburg 🇷🇺

🎥 Highlights 👉 https://t.co/LOdKDX2Cwn
📺 TV listings 👉 https://t.co/xliHcxWvEO pic.twitter.com/GMbDaxZ8wn

— FIFA World Cup 🏆 (@FIFAWorldCup) 19 июня 2018 г.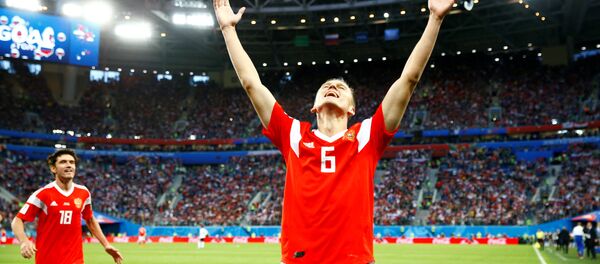 "I want to congratulate our team on their victory. Russia have practically guaranteed themselvesthemselves a place in the knockout stage. This is a historic event for our country, we've been waiting for 32 years for it. I congratulate Russia's coaching staff… They have done a huge job. [I congratulate] the players who showed a good performance and put coach's ideas into practice," Rodionov said.
He added that he wished Russia further success.
"I want the team to secure a good result in the final [group stage] game against Uruguay and reach playoffs in a good mood," Rodionov said.
Russia will face Uruguay on Monday, June 25 in their final group stage encounter.
The 2018 FIFA World Cup kicked off on June 14 and will continue until July 15, with the matches being played in 11 cities across Russia.