"Egypt are a good team, they played fast… There were a few nervous moments after Salah's goal. It was difficult to contain Salah. He is a world-class player," Zhirkov told journalists.
Russia held a solid victory over Egypt 3-1 in St. Petersburg on Tuesday. After their second group-stage match, the hosts have six points and are in with an excellent chance of reaching the knockout stage, where they could face Portugal, Spain, Iran or Morocco.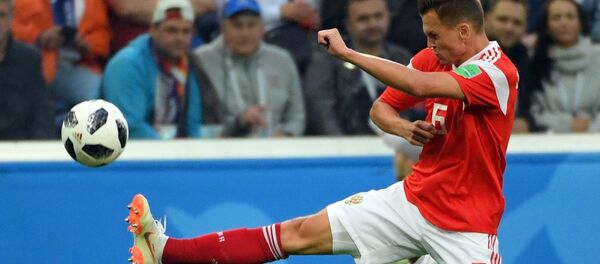 Meanwhile, Russia defender Ilya Kutepov said on Tuesday night that the team would not be looking to draw their third FIFA World Cup group stage match with Uruguay on Monday.
"We won't be looking for a draw in the match against Uruguay," Kutepov said. "There is no tragedy in penalty after a video replay. There are problems in every game… Was there a sense that Salah had played not to his full ability? Then, I don't see any reason to go onto the pitch if you can't play to your full ability," Kutepov added.
In turn, Russia midfielder Aleksandr Samedov said Tuesday night that Russia had fulfilled their first World Cup goal after beating Egypt.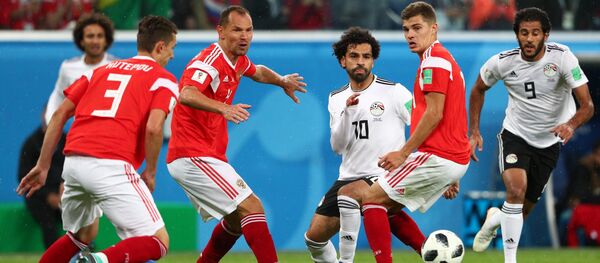 "We have fulfilled our first goal, I'm proud and happy. We have fulfilled our game plan. We understood that Egypt would attack as they needed to win, but we counterattacked, we were sharper. I think we performed better [than Egypt] in the first half, too. I think we controlled everything. We are happy!" Samedov told journalists.
He added that he believed Russia put in a better performance than in their first match when they thrashed Saudi Arabia 5-0.
The 2018 FIFA World Cup kicked off on June 14 and will continue until July 15, with the matches set to be played in 11 cities across Russia.
Russia will play against Uruguay in their final group-stage match in Samara on Monday.