Denmark may block or suspend the implementation of the Nord Stream 2 gas pipeline, Prime Minister Lars Lokke Rasmussen said after meeting with his Ukrainian counterpart Volodymyr Groysman in Copenhagen on Tuesday. 
"[The Danish parliament] has passed a bill to bring the discussion of the Nord Stream 2 gas pipeline project to the European level to discuss foreign policy decisions as part of a standard process of request assessment that would allow vetoing or delaying the implementation of this project," Rasmussen said during a joint news conference with Groysman.
He added that he had proposed bringing the discussion of the Nord Stream 2 project to the European level.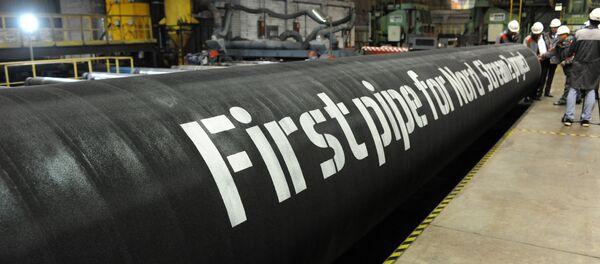 According to earlier reports, permission for the construction of the Nord Stream 2 gas pipeline has deliberately been delayed by Danish authorities under pressure from the US, the newspaper Izvestia cited several sources as saying.
"Apparently, Denmark is scared of disappointing its main ally Washington, which twists its partners' arms in order to force Russian gas out of the European market and fill it with its LNG," one of the sources said.
"Solid Economic Foundation" – Novak
Briefing reporters in Washington on Tuesday, Russia's Energy Minister Alexander Novak said during his meetings with US Energy and Treasury Secretaries Rick Perry and Steven Mnuchin he had urged the US not to politicize Nord Stream 2 which he said is a purely commercial project.
"I said that [Nord Stream 2], which is being implemented by European companies and Gazprom, is a commercially feasible project for Europe and something European consumers are interested in," Novak said.
"Clean energy infrastructure projects being implemented to ensure Europe's energy security should be based on a solid economic foundation devoid of any political assessments of such projects."
Novak added that the US sanctions unilaterally imposed on Russia's energy sector have also been hampering the American companies' implementation of lucrative projects in Russia.
As part of his visit to the US, Alexander Novak has also participated in an international gas forum and met with Vice-President of the European Commission for Energy Union Maros Sefcovic, who had earlier warned that the EU will have to respond in kind if the US decides to slap sanctions on the European companies involved in the construction of the Nord Stream 2 pipeline. 
READ MORE: Denmark Drags Its Feet on Nord Stream 2 Permission Due to US Pressure — Reports
Nord Stream 2 is a joint venture of Russia's Gazprom with France's Engie, Austria's OMV AG, UK-Dutch Royal Dutch Shell, and Germany's Uniper and Wintershall.
It aims to deliver 55 billion cubic meters of Russian natural gas a year to the European Union across the Baltic Sea to Germany bypassing Ukraine, Belarus, Poland and other east European and Baltic countries.
The Nord Stream 2, to run alongside the Nord Stream 1 pipeline,  will traverse the exclusive economic zones and territorial waters of Russia, Finland, Sweden, Denmark and Germany.
Nord Stream 2 is scheduled to be commissioned at the end of 2019.