The European Union applies double standards to Nord Stream 2, Hungarian Foreign and Foreign Trade Minister Peter Szijjarto told Sputnik.
"We are not part of the project, we can't resist it. But I can say there are unacceptable double standards," the minister said. According to him, the former South Stream project, which would increase the diversification of natural gas supplies for Central Europe has been "killed" by the EU.
"And now we don't see any encouragement on the part of the European Commission. I can't imagine any excuses or reasons the Commission could bring," Szijjarto added.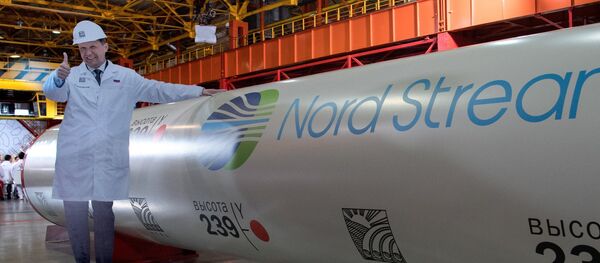 In 2014, EU opposition forced Russia to cease work on the South Stream project, which was to run across Bulgaria, Serbia and Hungary in favor of a new pipeline to run under the Black Sea to Turkey [Turkish Stream].
Nord Stream 2
Nord Stream 2, which is a joint venture of Russia's Gazprom with France's Engie, Austria's OMV AG, UK-Dutch Royal Dutch Shell, and Germany's Uniper and Wintershall, aims to deliver 55 billion cubic meters of Russian natural gas a year to the European Union across the Baltic Sea to Germany.
Building permits have already been issued by Germany, Finland and Sweden.
A similar permit by Denmark is still pending, but on Tuesday it was announced that the Danish government wants to delay the implementation of the project. According to Prime Minister Lars Lokke Rasmussen, the idea needs to be discussed on a pan-European level.
Denmark's decision came after the US State Department said it hoped that the EU would "independently" suspend the construction of the Nord Stream 2 pipeline or "reformat" a Russian-proposed plan to this effect.
READ MORE: EU to Retaliate if US Slaps Sanctions on Nord Stream 2 — Reports
Some countries, above all Ukraine, who are afraid of losing revenues from Russian gas transit, are opposed to Nord Stream 2. The project is also facing opposition from the United States who has ambitious plans to export its LNG to Europe.
Russia has repeatedly urged its European partners not to perceive the Nord Stream pipeline as an instrument of influence. According to President Vladimir Putin, Moscow considers the project to be entirely economic.