Eugene Puryear, host of By Any Means Necessary on Radio Sputnik, who is in Mexico City ahead of the election, and Dr. John Ackerman, professor of Constitutional Law at the National Autonomous University of Mexico and editorial director of the Mexican Law Review, joined Radio Sputnik's Loud & Clear Friday to discuss the race and why the leading candidate is facing so much backlash from the political right and Mexico's capitalist class. 
Lopez Obrador "is not a radical communist or socialist," Ackerman said, "but he's talking about separating government and the oligarchs, separating the public sphere and the private sphere — which should be very basic, liberal institutional demands. But in a country like Mexico, this could mean a serious transformation of political and economic power."
Doing so would profoundly affect "the interests the Mexican oligarchs and of the international investors who are in bed with them. So that's why they're afraid," Ackerman explained.
Such powers don't care about democracy, Ackerman said, only covering their own hides. Meanwhile, Mexicans are fearful of sabotage against the candidate, who is leading in polls by wide margins to the tune of 20 to 30 percentage points.
The election marks the third run for Lopez Obrador. The first two times, electoral fraud put an end to his run, Ackerman said, adding that "everybody is nervous" about it happening again.
In 2005, Lopez Obrador resigned from the position of head of government for Mexico City in order to run in the 2006 presidential election, losing that year by 0.58 percent. In 2012, he came in second place, losing to current president Enrique Peña Nieto. In both cases, Lopez Obrador contested the results over allegations of fraud.
Since 2007, the year after his first loss, Mexico has seen widespread political violence resulting in the deaths of 200,000 people.
"Mexico is still not a consolidated democracy yet, and there's still a possibility that there could be an enormous fraud this Sunday," Ackerman said. He added that Lopez Obrador is a politician in the style of US Senator Bernie Sanders or UK Labour Party Leader Jeremy Corbyn.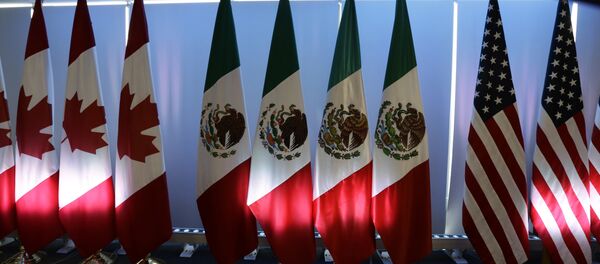 "He wants to cut out the monopoly control of these oligarchs."
Puryear, in Mexico City covering the elections for Sputnik News, told Loud & Clear hosts John Kiriakou and Brian Becker that he's been speaking to people campaigning for the National Regeneration Movement (Morena), the party Lopez Obrador leads. "There are very, very active plans to try to prevent voter fraud," Puryear said.
"There're a lot of people going to the polls, talking about what the poll watching has to do, discussing things they can do to help prevent fraud, help prevent vote-buying and so-on and so-forth," Puryear said. "So there's a very active feeling in terms of 'yes, this could actually happen, but we're not going to just allow it to happen: we're gonna build up our own defenses.'"
"Here, in this neighborhood, there's an expectation that voter turnout may be the highest that it's ever been," Puryear said, or at least "pretty much unprecedented." Morena has let Puryear sit in on their conversations about mobilizing the community to turnout for the election and help prevent fraud.
The feeling on the street is "more or less a reflection" of what's being forecasted in the polls, Puryear added, despite other candidates' efforts to tie Lopez Obrador to socialist governments like Venezuela and Cuba, comparisons that some of the more pro-America Mexico City residents would find distasteful. "There's a lot of attempts to put the thumb on the scale that way," Puryear said, but added that he thinks the "polls are correct."