German Chancellor Angela Merkel plans to place migrants earlier registered in in other EU countries in special "controlled" centers, DPA reported Saturday, citing a letter the chancellor had earlier sent to the leaders of the parties forming her coalition government.
In the letter, Angela Merkel summed up the results of the high-stakes talks in Brussels centering on the European Union's migration policy.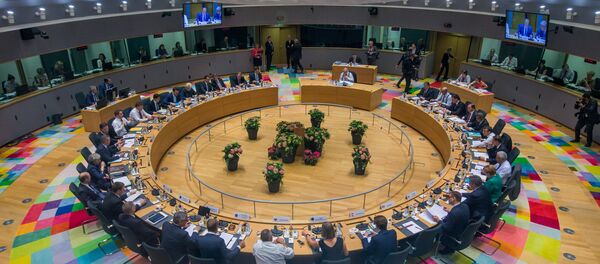 According to the document, at least 14 EU countries had assured the German chancellor of their readiness to back her migration policy and contribute to efforts to send migrants back to the countries of their initial registration.
In telephone talks with her coalition partners on Friday, Merkel also said that the government was ready to dispatch additional police officers to Bulgaria and other countries as part of the EU's effort to secure the bloc's external borders.
In the final statement on migration released on Friday, the participants of the EU summit instructed the European Commission to decide the issue of setting up filtration centers in countries outside the EU to select refugees entitled to asylum and bring them to Europe.
The Commission was also tasked with setting up migrant processing centers inside Europe, that would swiftly distinguish between genuine asylum seekers and "irregular migrants, who will be returned."
Asylum seekers, who really need protection – primarily those coming from war zones — will be distributed among EU countries on a voluntary basis without any quotas.
READ MORE: Merkel Says Migration Crisis 'Make-or-Break' for EU Ahead of Bloc's Summit
Among other priorities outlined in the document are better financing of operations to prevent migrant's from illegally crossing the EU's borders and funding similar efforts in Turkey and in African countries.
The EU leaders said the agreement would boost the bloc's external borders and enhance solidarity among member nations.