New Delhi (Sputnik): In a first, a husband in India has filed for divorce due to being fed up with his wife's "addiction" to social media. The petitioner, Narendra Singh, aged 30, has prayed for a court's intervention to get him divorced from his wife, who is hooked on social platforms and lives in the virtual world.
READ MORE: Twitter Ablaze Over Minister Claiming Ancient India Invented Internet
Singh, a software professional and a resident of Delhi, has filed the divorce plea in a family court on the ground that his wife was so obsessed with social media that she spared no time for him and the family.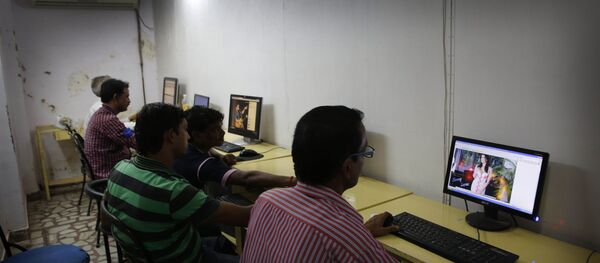 He has claimed that he was disturbed with his wife's late-night chats on WhatsApp with her male friends and whenever he tried to stop her, she would get furious and threaten him with serious consequences, the Indian tabloid Mail Today reported.
Manish Bhadauria, the counsel appearing for Singh in the court told Mail Today that the court has referred for a mutual counseling session for the couple in July to understand if the tension can be sorted out.
READ MORE: India Reportedly Sees Exponential Jump in Mobile Video Ad Consumption
"Being well-educated, the husband gave the wife ample time to adjust into the new atmosphere of the matrimonial home, but spending time on social media and ignoring household responsibilities as a wife had become her habit," Bhadauria told the tabloid. 
If divorce is granted, the case will be India's first ever divorce due to "social media addiction."