Miselis appears to still be employed by Northrop Grumman and maintains his security clearance.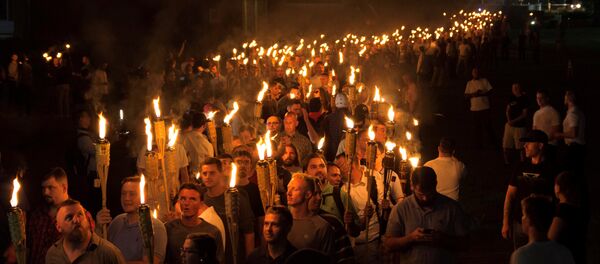 1 December 2017, 16:47 GMT
Miselis' exposure comes amid an investigation by ProPublica and Frontline into the identities of white nationalists who participated in violence at the infamous and deadly "Unite the Right" rally in Charlottesville, Virginia, in August 2017.
At the rally, Miselis was videotaped wearing a Make America Great Again hat and with tape over his knuckles, like a boxer, pushing an African-American counter-protester to the ground and punching him repeatedly. Other members of RAM could be seen in the video choking and bloodying two female counter-demonstrators.
Previously, during a rally that spring in in Berkeley, California, Miselis also physically fought left-wing demonstrators alongside his RAM cohorts.
The organization was founded in early 2017 by Robert Rundo, a Queens, New York, man who spent a little more than a year in prison after stabbing a member of a rival gang in 2009. Miselis recruited to his new group nearly two dozen members of the Nazi skinhead gang Hammerskin Nation, a group believed to be behind at least nine murders.
Though small in number, its members are capable of serious violence. One Hammerskin who joined, Matthew Branstetter, went to prison in 2011 for robbing and brutalizing a Jewish man in a park, leaving him with a concussion, a broken jaw and nose, a fractured eye socket, cracked ribs and other injuries.
At some point, Miselis received a security clearance from the US government to work on computer modeling and simulation in Northrop Grumman's aerospace division, according to several current and former employees from the organization who spoke with ProPublica. The process for obtaining such clearance is two-pronged: first, the federal government's Office of Personnel Management conducts an investigation into the person seeking clearance, then their findings are forwarded to a "special unit" within the Department of Defense. Only once they are cleared is that person allowed access to sensitive or classified information.
It isn't clear when Miselis received his clearance. Defense officials declined to comment on the issue and the personnel management office referred questions to Northrop, which also declined to comment. He "seems" to be still employed with the company, according to ProPublica. UCLA told the outlet that Miselis is "technically on leave" from the Ph.D program.
Northrop Grumman responded to the reports on Twitter, saying that they are looking into the allegations.
Several law enforcement officials confirmed to the nonprofit journalism outlet that the FBI is investigating RAM, but the agency itself would not confirm or deny a formal investigation.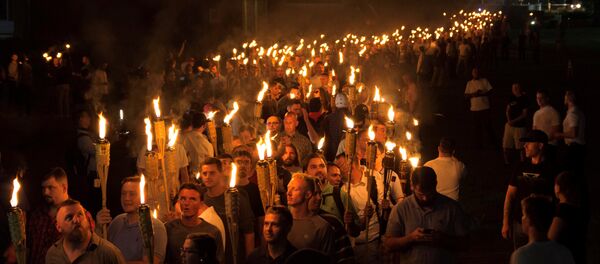 29 August 2017, 22:38 GMT
According to chat logs leaked to the news collective Unicorn Riot, Jason Kessler, the August 2017 protest's organizer, is planning to hold a second rally in Charlottesville to mark the anniversary of the first. Kessler has also sought a permit for an action in Washington, DC; however, it appears that the DC rally would serve as a "fall back" if Kessler's lawsuit against Charlottesville for their refusal to issue him another permit fails. Although RAM was not mentioned in the chat logs, which are dated from May 13 to June 14, 2018, Hammerskins were mentioned as likely attendees who could provide security. 
Although RAM is separate and distinct from Hammerskins, since many of its members come from the gang, it is likely that crossover remains, a common feature of white supremacist organizations. Hammerskins participated in a brutal far-right rally in Sacramento, California, in June 2016 that saw far-right participants stab seven counter-demonstrators.
The outing of Miselis follows another high-profile case brought to light by ProPublica — that of Vasilios Pistolis, a lance corporal in the US Marine Corps who has since been demoted to private. Pictures of Pistolis showed him beating counter-protesters with a wooden flag pole at the Charlottesville rally. He later bragged online that he "cracked 3 skulls open with virtually no damage to myself," Sputnik News reported.
Pistolis was a member of a small and secretive neo-Nazi group called Atomwaffen Division, which has been linked to five murders since May 2017 and which advocates use of guerilla warfare in the overthrow of the United States government, after which a National Socialist (Nazi) government would be installed.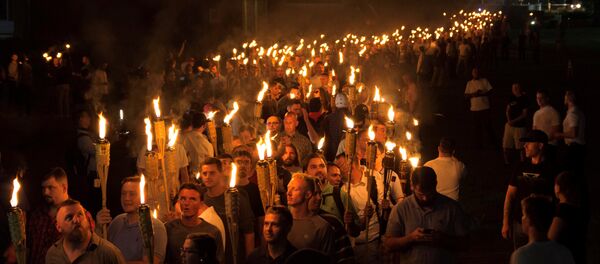 On June 18, Pistolis was court martialed and charged with failure to obey an order and making false statements, although it isn't clear for which actions he was specifically charged. That same day, Second Lieutenant Spenser Rapone, a former US Army Ranger who later attended West Point Military Academy, also known as "commie cadet," received an "other than honorable" discharge after photographs of him wearing a Che Guevara t-shirt went viral in September.
Also on Thursday, Ohio native James Alex Fields pleaded "not guilty" in Charlottesville to federal hate crime charges stemming from the murder of Charlottesville counter-demonstrator Heather Heyer and the injuries of 19 others. Sputnik News reported the charges on June 27 after he was indicted by a federal grand jury on 30 counts of hate crimes. Fields also faces state-level charges of first-degree murder which could see him put behind bars for life over the car attack.