"Serbia has always been committed to finding a solution on the EU level, while it has taken its own share of responsibility. However, it is unacceptable and impossible for Serbia to become a "hub" for migrants, and it has taken every opportunity to underline this," Filipovic said.
Filipovic noted that since the outbreak of the migrant crisis in 2015 Serbia has been demonstrating its solidarity and cooperation regarding the accommodation of migrants, having an even greater performance than some EU member states.
READ MORE: EU Seeks to Turn Balkans Into 'Parking Lot for Migrants' — Serbian MP
In late June's European Council meeting, EU member states agreed on the necessity of creating "regional disembarkation platforms in close cooperation with relevant third countries" as well as controlled reception centers within EU borders. The resettlement or relocation of migrants across the bloc is expected to be done on a voluntary basis.
There are currently almost 3,000 refugees in Serbia, according to UN figures. Of these, almost 2,700 are staying in government centers, while 300 are camping in the capital and close to the borders of Croatia and Hungary, which are the next stop en route to wealthier north European states. Serbia lies on the western Balkan migration route, which has been shut after Balkan states and Hungary closed their border.
Commenting on the creation of reception centers, the official noted that they could not be of a closed type as it was unlikely that such centers could hold people who did not want to be in a particular country and who were not even its citizens.
"Also, the question is how much the establishment of such centers would be effective; as it was seen in practice, the intention of these people is to reach Western European countries and for them to stay outside the territory of the EU is not an option," Filipovic added.

Serbia considers good relations between the European Union and Turkey to be very important for closing the Balkan migration route and preventing new waves of migrants, Filipovic said.
Migration along the Balkan routes, in particular, the western Balkan route, fell sharply in 2016 after the EU-Turkey migrant deal and the closure of borders by Balkan states and Hungary.
"We consider it very important that the EU maintains good relations with Turkey because it is a key factor in the efforts to close the West Balkan route, which is why the implementation of the Action Plan agreed between the EU and Turkey is very important," Filipovic said.
Since the Western Balkan migrant route leading from Greece through Macedonia and Serbia to Croatia was closed in 2016, migrants started to cross into EU countries through a new Balkan route, increasing pressure on the reception capacities of Albania, Montenegro and Bosnia and Herzegovina. At the moment the growing number of migrants using the new Balkan route is raising security and humanitarian concerns.
In March 2016, the European Union and Turkey reached a migration deal, under which they agreed that refugees arriving in Greece would be returned to Turkey if their claim for asylum was rejected, while Syrian asylum seekers in Turkey would be resettled in Europe on a one-for-one basis. Brussels, in turn, vowed to accelerate the Turkish EU accession bid, introduce visa liberalization, as well as provide financial aid to the country to cover the costs of migrant reception.
Since 2015, Europe has been experiencing its worst migration crisis in recent history, struggling to accommodate hundreds of thousands of refugees and migrants fleeing hostilities in the Middle East and North Africa. Migrants are trying to reach EU states using various routes, including via Italy, Greece, Turkey and the Balkans.
Kosovo Settlement Talks
The involvement of states that do not recognize Kosovo's independence, such as Russia, as moderators in settling Serbia's dispute with breakaway Kosovo, will help reach a rational solution for the crisis, Filipovic told Sputnik.
"We support the role of a moderator, for example, if the format of the dialogue changes and somebody who has not recognized Kosovo and Metohija enters the field. We would then expect that, due to the balance, a country that has not recognized Kosovo and Metohija like Russia also gets involved. This is quite legitimate and would enable us to reach a rational solution," Filipovic said.
READ MORE: Kosovo Cancels Border Control With Albania, Scraps Roaming Charges — Reports
The official stressed that Serbia would continue to demonstrate readiness and goodwill for settlement talks but would also strongly defend its interests in Kosovo.
In 2008, Kosovo unilaterally proclaimed independence from Serbia, which has not been recognized by China, Greece, Iran, Israel, Russia, Serbia, Spain and a number of other states. The European Union persuaded Serbia to begin cooperating with Kosovo in 2011. This led to the signing of the Brussels Agreement on normalizing relations between Serbia and Kosovo in 2013, and the 2015 accord on forming the Community of Serb Municipalities, a self-governing association of the Serb-dominated regions of Kosovo.
Serbia and Russia Cooperation
Serbia expects that the upcoming visit of Russian President Vladimir Putin this fall will encourage mutual beneficial cooperation in all areas and will result in the signing of a number of documents, Branimir Filipovic said.
"The President of the Russian Federation V. Putin is always welcome in Serbia. Preliminary, this visit will be realized in the autumn of this year, which is an opportunity for the two countries to confirm the traditional friendship, mutually beneficial relations in all areas and sign numerous agreements of mutual interest," Filipovic said.
The official stressed that the expected visit of the Russian president would be an additional confirmation of the excellent relations between the two countries following the recent visit of the Serbian President Aleksandar Vucic to Moscow in May.
"Our side expects that during the next meetings at the highest and high level, there will be a significant increase of economic (increase in trade, energy, infrastructure, agriculture and tourism) military-technical [defense industry], and scientific and educational cooperation, as well as cooperation in the field of culture," Filipovic added.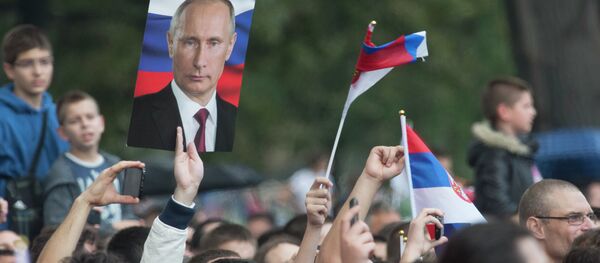 On June 29, Serbian Foreign Minister Ivica Dacic said that Putin will visit Serbia in the fall. In turn, the Russian Embassy in Belgrade said that the visit of the Russian president to Serbia will lead to the signing of a number of documents.
Russia and Serbia have long had friendly relations, dating back to the 19th century when Serbia gained independence from the Ottoman Empire. The countries are also developing economic, defense and diplomatic cooperation.
EU Accession Talks
Serbia seeks to accelerate its accession negotiations with the European Union while also defending country's national interests, including regarding breakaway Kosovo, Filipovic stated.
"Serbia will continue its European process seeking faster opening of negotiating chapters, defending at the same time the equally important national interests pertaining to Kosovo and Metohija and its non-acceptance of the unilaterally proclaimed independence of Kosovo," Filipovic said.
Filipovic stressed the importance of European Parliament President Antonio Tajani's statement made in May that Serbia could complete its EU accession by 2025, but said that the given timescale was a challenge Serbia was now faced with rather than a promise.
"We are aware that there are still many steps ahead of us, but also that giving a timeframe is not a promise, but a call and a challenge to be faced with," the official added.
Filipovic stressed that at the moment 14 chapters out of 35 opened between Belgrade and Brussels while two have been completed.
The official highlighted that Serbia was committed to EU membership and implements its European accession process with full responsibility.
On July 2, the European Union and Serbia signed an agreement on the pre-accession assistance of 41.2 million euros provided for reforms to improve the rule of law and ensure the independence and efficiency of the country's judiciary, which are required prior to accession.
READ MORE: Kosovo Albanians Voting For Serbia With Their Passports
In February, the European Commission presented a bloc enlargement plan, suggesting that Serbia and Montenegro could join the European Union by 2025. EU foreign policy chief Federica Mogherini said these two countries, as well as Albania, Bosnia and Herzegovina, Macedonia and Kosovo were on a "clear path" to membership.
The Western Balkan states of Albania, Macedonia, Montenegro and Serbia are official candidates for EU membership. Each country must negotiate the terms of accession with the current member states and align their domestic legislation with EU law before joining.