"On Wednesday, 11 July, a small bottle was recovered during searches of Charlie Rowley's house in Amesbury," police said in a statement. "Scientists have now confirmed to us that the substance contained within the bottle is Novichok."
The police further said that it would take necessary tests to establish whether Novichok found in Rowley's house was from the same batch that was used in the Skripals case.
READ MORE: UK Gov't Gives South Wiltshire $6.63Mln Following Salisbury, Amesbury Incidents
"Further scientific tests will be carried out to try and establish whether it is from the same batch that contaminated Sergei and Yulia Skripal in March — this remains a main line of enquiry for police," the statement added.
The authorities are looking into where the bottle may have originated from and how it came to be in Rowley's house, according to the statement.
"This is clearly a significant and positive development. However, we cannot guarantee that there isn't any more of the substance left and cordons will remain in place for some considerable time. This is to allow thorough searches to continue as a precautionary measure for public safety and to assist the investigation team," Assistant Commissioner Neil Basu, the head of UK Counter Terrorism Policing, said in the statement.
Basu pointed out that the authorities were unable to disclose any further details regarding the bottle.
The Scotland Yard has been working closely with police of the Wiltshire county, where Amesbury is located, as well as scientists, health experts and other specialists, the official added.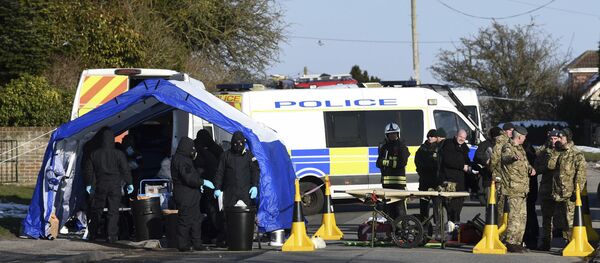 One of the victims, 44-year-old Dawn Sturgess, died in a hospital on Sunday, while her partner, 45-year-old Charlie Rowley, regained consciousness on July 11.
On the morning of July 4, the UK police reported a "serious incident" in Amesbury, Wiltshire, where two people were exposed to an unknown substance and were hospitalized in critical condition. Later, Scotland Yard confirmed that the man and woman were poisoned with the same substance as the Skripals.