New York's Civilian Complaint Review Board, an outside oversight agency that looks into police wrongdoing, announced Thursday it had begun disciplinary proceedings against Pantaleo following an ultimatum given to the US Justice Department by the NYPD, saying it could no longer wait for the federal civil rights investigation to conclude, Raw Story reported Thursday.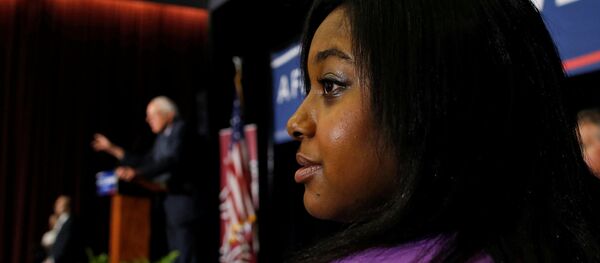 30 December 2017, 18:34 GMT
"They confirmed to me for the first time that at this point they don't have an objection to us proceeding," Lawrence Byrne, the NYPD's deputy commissioner for legal matters, told The New York Times.
However, if you ask the DOJ, they've been saying for a long time now that the NYPD didn't have to wait for them.
Byrne sent a letter to the DOJ Monday saying the NYPD wanted to begin its internal proceedings on the fourth anniversary of Garner's death, which was Tuesday, and that they would begin by August 31 regardless of the federal government's decision. The DOJ responded by noting they had told the department back in April that they could begin their own proceedings as they wished, whether or not federal prosecutors brought charges against Pantaleo.
It's unlikely the NYPD missed that response, as the news brought protests led by Garner's mother, Gwen Carr, and criminal justice reform groups to the steps of city hall as activists demanded that New York Mayor Bill de Blasio immediately begin such proceedings, NYT reported at the time.
Nonetheless, Bryne claims the DOJ "consistently asked us" not to bring internal charges until their investigation was complete.
Either way, Pantaleo's trial isn't likely to begin before the year is out, Byrne said.
Pantaleo, who has been on desk duty since shortly after Garner's death, has still managed to rake in $120,000 a year, thanks to extensive overtime, Sputnik reported. He has already dodged criminal charges on Staten Island; in late 2014, a grand jury failed to indict him for Garner's death, and the NYPD's internal inquiry's findings still have not been made public.
The CCRB has already judged against Pantaleo once, when it ruled last year that he used an illegal chokehold against Garner and recommended the departmental charges that are now underway.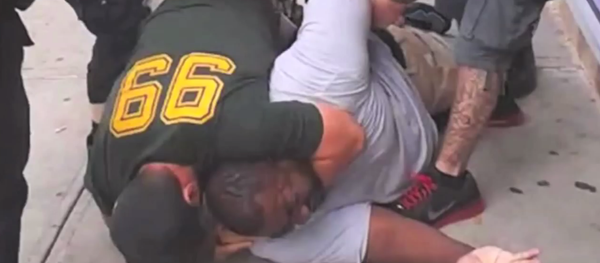 One reason the Justice Department may be dragging its feet on charging Pantaleo with anything is that federal prosecutors may not be confident they could win the case. The NYT noted in April that police abuse cases are among the hardest to prosecute, as juries readily grant deference to police officers for actions carried out under pressure.
Garner, 43, was confronted by police officers on July 17, 2014, because he was believed to be illegally selling single cigarettes from packs without tax stamps outside a Staten Island store. When Garner objected to police stopping him and once again giving him a hard time, Pantaleo attempted to arrest him, but Garner pulled his arms away. In cell phone footage of the incident used by the CCRB to charge him, Pantaleo can be seeing placing Garner into an illegal chokehold as a half-dozen other officers help tackle Garner to the ground while he says, "I can't breathe."
Garner died on his way to the hospital, and the medical examiner later confirmed that he had died of "compression of neck, compression of chest and prone positioning during physical restraint by police," ruling his death a homicide, the NYT reported at the time. His death, and the lack of criminal charges against Pantaleo, helped fuel the burgeoning Black Lives Matter movement.
The NYPD has not yet meted out punishment from its internal investigation, but if he is found guilty during these disciplinary proceedings, Pantaleo could be dismissed from the force.