Russian Foreign Ministry has summoned Greece's ambassador to Moscow, Andreas Fryganas, as a manifestation of the protest over "anti-Russian" statements made by Athens amid a diplomatic spat between the two countries.
READ MORE: Russian Foreign Ministry: US Clearly Behind Greece's Decision to Expel Diplomats
Meanwhile, Russia's envoy to the EU called the expulsion of Russian diplomats from Greece a "provocation" and noted that it probably does not stem from Greece.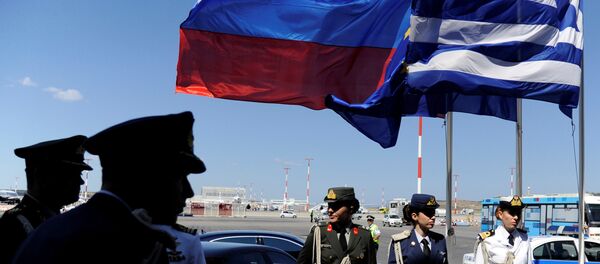 Russia's resentment has been fueled by Athen's statements that Moscow must stop meddling in Greece's domestic affairs and that Russian Foreign Ministry spokesperson Maria Zakharova's remarks concerning the diplomats' expulsion showed "a lack of understanding of today's world, in which states, regardless of their size, are independent and can exercise an independent, multidimensional and democratic foreign policy."
Tensions between Greece and Russia have been running high since July 11, when Athens decided to expel two Russian diplomats and ban two Russian nationals from entering the country, accusing them of trying to intervene in the dispute over changing of the name of the Former Yugoslav Republic of Macedonia (FYROM) and to block the deal thus preventing Macedonia from entering NATO. The Russian Foreign Ministry has pledged to response reciprocally to Greece's move.