A Georgia lawmaker offered his resignation letter late Tuesday after he was broadcast on British comedian Sacha Baron Cohen's Showtime series "Who Is America?" yelling racial slurs and exposing his buttocks.
In a letter sent to Georgia House Speaker David Ralston's Office, State Rep. Jason Spencer revealed that he would be resigning from his post effective July 31 in light of the recent backlash over his behavior. Spencer had only five months left in his term.
The 43-year-old was seen in the Showtime series pretending to be a Chinese tourist, repeatedly yelling "n***er," and later exposing his buttocks in a segment on how to best intimidate a terrorist.
​After the show aired on Sunday, several Georgia politicians came forward to condemn Spencer, urging him to resign from office.
Ralston was among those calling on him to leave. He told the Atlanta Business Chronicle that "the actions and behavior used on this video are reprehensible."
"Representative Spencer has disgraced himself and should resign immediately," Ralston said. "Georgia is better than this."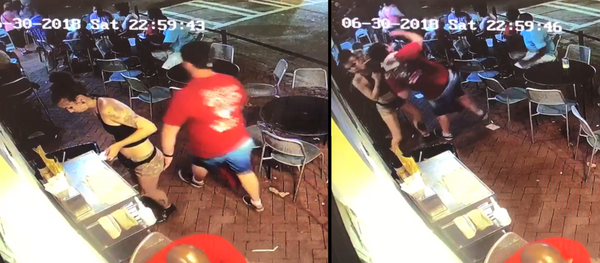 The Peach State's governor Nathan Deal called Spencer's behavior "appalling and offensive" and noted that "there is no excuse for this type of behavior, ever, and I am saddened and disgusted by it."
On Monday, prior to announcing his intent to resign, Spencer released a statement saying that he'd been taken advantage of by Cohen. According to the politician, his family had been receiving death threats over a bill he'd proposed that would have banned women from wearing burkas on public property. Spencer later withdrew his proposal.
"Sacha Baron Cohen and his associates took advantage of my paralyzing fear that my family would be attacked," Spencer told the Atlanta Journal Constitution. "In posing as an Israeli agent, he pretended to offer self-defense exercises. As uncomfortable as I was to participate, I agreed to, understanding that these 'techniques' were meant to help me and others fend off what I believed was an inevitable attack."
"I deeply regret the language I used at his request as well as my participation in the 'class' in general. If I had not been so distracted by my fears, I never would have agreed to participate in the first place," he added, before stating the he would finish out the remainder of this term.
Spencer's resignation marks the first major consequence triggered by the 46-year-old comedian's politically charged 30-minute satire show. Cohen, who became well known through his portrayals of the characters Ali G and Borat, has targeted other officials, including 2008 GOP vice presidential nominee Sarah Palin and former Illinois Republican Rep. Joe Walsh.