Sputnik: How surprising is the EU-US deal to you? What has prompted the easing of the trade tensions now?
Thomas J. Prusa: In a way the US has oversold to the public how much was really done. So Trump is very much in need of some kind of victory on the trade policy front. I think that this is mostly an agreement to have a conversation, and that's what the EU wants. The EU likes negotiations and I think it's a successful day for the European Union.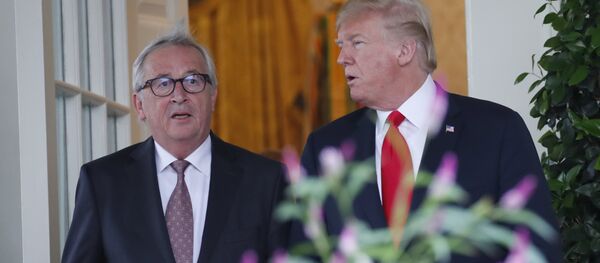 Sputnik: Taking into account Trump's unpredictability, do you think that this initial agreement will actually happen in the next month or so?
Thomas J. Prusa: No. I think what will happen is that there will be a movement to have a better dialogue and the EU will follow through on some of the promises made to buy more agricultural products. The problem is that negotiating real tariff reductions is a long and hard process, so I don't want to oversell how quick the US and the European Union could come to an actual agreement. But I do think we're going to see some progress in terms of lessening the trade tensions.
Sputnik: Is it your understanding that the automotive tariffs are going to stay? Is that going to be a key element of any sort of tariffs moving forward? They want to tax automotive sales either coming into the US and also coming to the European Union from the American side; they're going to stay, are they?
Thomas J. Prusa: I think you're right. I think that is, in fact, in the background here that the European Union is irritated with the United States with respect to the steel and aluminum tariffs, the far bigger issue was the automobile trade and truck trade issue. That's going to continue to be in the background. If Trump were in fact to impose a 25% tariff on the import of automobiles, I think that would be the end of any further negotiations with the EU. That would really mark a dramatic worsening in the trade relations, not just with the European Union but also with Japan and Korea.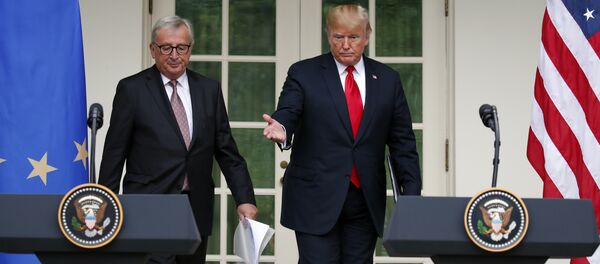 Sputnik: Do you expect an agreement similar to the one provisionally agreed with the EU to be made with other countries? Or, basically, is he just trying to draw Europe closer now, having exacerbated the relationship within the last couple of months?
Thomas J. Prusa: I think the other trading partners are all looking to the European Union. Similarly, I think, the EU is looking to what deals Canada and Mexico might be cutting with the United States with the revised NAFTA agreement. I think, it's important for your listeners to understand that actually getting these trade agreements actually finished and agreed to by both sides is extremely difficult. We should anticipate that this is the beginning, even in the best case scenario, of probably a longer negotiation; but at least it marks a cooling off and that's really important.
Sputnik: The WTO chief has warned that the US-China trade war is the worst case scenario for the global economy, which might cost millions of jobs; what do you make of these estimates? Is the WTO chief quite accurate in his statement or is he 'overcooking' it, so to speak?
Thomas J. Prusa: I'm in agreement with the WTO position on that. I'm actually surprised to the extent at least in the Unites States much of a public commentary seems to be downplaying the potential economic ramifications of these tariffs and increased trade tensions. I'm in agreement, and I think that even in the US alone the estimates are potentially hundreds of thousands of lost jobs due to these tariffs. Certainly, if we start thinking more properly around the world, we're surely talking of millions of jobs being impacted.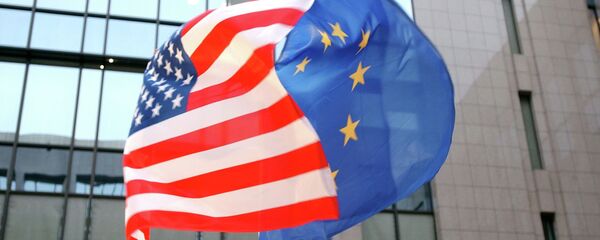 Sputnik: What's your feeling with regard to the likelihood of averting a trade war? Do you think it's more likely or less likely to happen now? He [Donald Trump] really is going for all guns blazing on all fronts would that be with China, the European Union, Mexico, Canada… He's basically going after everyone, he's a man that's very much looking for a deal in every sense of the word, isn't he?
Thomas J. Prusa: Yes, I think you're right. We're starting to approach the November elections; there's a lot of attention being focused of what will be happening, and there has been almost nothing produced of significant game for the US and Trump has placed a lot of priority on this. Whether or not we're going to break into a trade war, I think you're exactly correct, Trump needs to be able to tout a win on the trade front as of right now he doesn't have that. So I think he's very anxious to try and bring home some deal with respect to Canada and Mexico maybe but on some front. He needs to bring home what he can market to the public as a successful trade agreement.
The views expressed in this article are those of the speaker, and do not necessarily reflect those of Sputnik.