Sputnik spoke with Ayo Johnson, Political Commentator for more insight on the issue.
Sputnik: Who is likely to win the election, will Zimbabwe change?
Ayo Johnson: Any one of the two leaders would change Zimbabwean politics because the bottom line is, Mugabe; who had been in power for so long was just all the country had known since independence. I think Nelson Chamisa's party would make a huge difference because he is against the ruling party and wants to make change.
Mnagangwa's party is in control of the media and the army so if Chamisa can win against this, it will be true progress for Zimbabwe because the economy needs money from the IMF, which it is unlikely to get unless it shows that democracy has evolved there.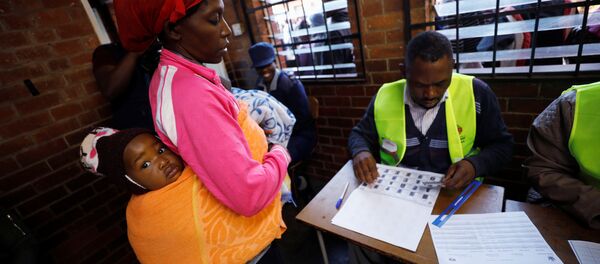 It also needs support from the Commonwealth and the US sanctions; which have
crippled the Zimbabwean economy
, need to be lifted. The elections therefore need to be legitimate and endorsed by the international community.
Sputnik: Will the election be free and fair?
Ayo Johnson: There are international observers on the ground. A lot of people are excited about the opportunity to vote and many first time voters under the age of 30 are participating, so they could make a huge difference, for them the elections are everything.
The views and opinions expressed by Ayo Johnson do not necessarily reflect those of Sputnik.