Recalling that land reforms and related legislation "are often controversial and mainly politically driven" from a historical point of view, Alavi called South Africa the "most industrialized economy" in the continent, which he said "is unlikely to jeopardize investments in its agricultural industries" in light of the upcoming land expropriation.
In this context, he referred to the complicated economic situation in neighboring Zimbabwe, which Alavi said is unlikely to be repeated in South Africa.
READ MORE: S Africa Facing Crisis Regarding Violence in Attacks on White Farmers – Activist
"The political fabric in South Africa is more open to the world than Zimbabwe under Mugabe when land reforms were imposed [there], so I would not expect South Africa to turn to a 'second Zimbabwe'," Alavi underscored.
He attributed a decision by South Africa's ruling African National Congress Party (ANC) to consider land reforms to the upcoming elections in the country, scheduled for next year.
"The opposition won control of several key municipalities within the major cities of Johannesburg and Pretoria, in 2016. The ANC aims to regain the seats that it lost to the opposition. The proposals that signal a shift towards radical land reform has already raised concerns amongst some foreign investors and it may have downhill effects on South Africa's fiscal charts," Alavi pointed out.
READ MORE: Attacks on White Farmers in S Africa: Expert Explains How Gov't May Protect Them
In this vein, he cited the ANC as saying that the implementation of the proposed land reform will help boost the country's economy and reduce unemployment in its rural areas.
Currently, the South African government, led by President Cyril Ramaphosa from ANC, is looking into constitutional reform that would let land be expropriated from white farmers and handed to black owners without compensation.
Earlier this week, Ramaphosa said that the ANC will "finalize a proposed amendment" to the constitution in a measure which he described as "critically important" to the country's economy.
READ MORE: In South Africa White Farmers Reportedly Arm Themselves Amid New Murders, Attacks
Even though South Africa passed a law allowing land expropriation in 2016, Ramaphosa insisted that the constitution should be "more explicit" on the issue.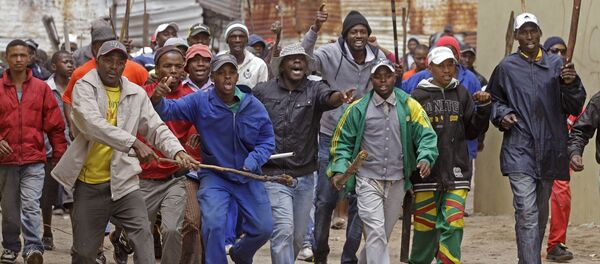 In March, South Africa's parliament passed a motion initiated by the left-wing party Economic Freedom Fighters (EFF) that could lead to the seizure of land from white farmers without any financial recompense.
The governing African National Congress supported, but amended the motion, with Ramaphosa vowing to speed up the transfer of land from white to black owners.
In South Africa, 73 percent of agricultural estates still belong to white South Africans, who make up 10 percent of the population.
The views and opinions expressed by Seyed Ali Alavi are those of the analyst and do not necessarily reflect those of Sputnik.