Three operatives of the Jamaat-ul-Mujahideen Bangladesh (JMB), a banned terror outfit, have been arrested in southern India in connection with the bomb blasts in the Indian state of Bihar in January this year and in West Bengal in 2014.
19-year-old Abdul Karim, alias Chhota, and 37-year-old Mustafizur Rehman, alias Shaheen, alias Tuhin, were arrested in the Malappuram district of Kerala by sleuths of the National Investigation Agency (NIA).
READ MORE: Man Arrested for Warning of Chemical Attack on Indian Prime Minister — Reports
"These accused persons were arrested from Labour Camp of Bengali speaking persons in Malappuram district where they had been hiding subsequent to the planting of IEDs at Bodh Gaya. Searches were conducted at the hideouts of these two accused and incriminating material including circuit design of IED has been recovered by the NIA team," the NIA said in a statement.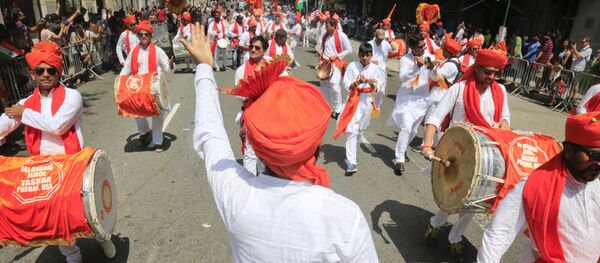 The third terrorist, 38-year-old Kausar, accused of carrying out a blast in Burdwan of West Bengal and of masterminding the Bodh Gaya blast was rounded up in the neighboring state of Karnataka.
"Kausar is the top leader of JMB in India and is wanted in Burdwan blast case and in many other cases in Bangladesh also. He is the mastermind in the Bodh Gaya bomb blast conspiracy," the NIA added. 
READ MORE: India, Russia Discuss Need to Curb Proliferation of Terror Through Internet
A small-intensity bomb went off near the Bodh Gaya temple complex on January 19 this year. While there were no casualties due to the blast, it led to the recovery of several other IEDs in the vicinity. On October 2, 2014, an explosion occurred in a house in the Khagragarh locality of Burdwan in India's eastern state of West Bengal. Police seized 55 improvised explosive devices, RDX, wrist watch dials and SIM cards from two terrorists who were killed in the blasts.