Videos posted online show Turks setting US banknotes on fire, sneezing into them and tearing them apart.
In this video, a man is seen burning a one hundred dollar bill with a cigar lighter.
In another clip, several middle-aged men make a bonfire out of US dollar bills.
A Turkish official has joined the flash mob.
Hollanda'yı portakal sıkarak, Dolar'ın yükselişini Dolar yakarak protesto eden zihniyet ile #AynıGemideDeğiliz

'Onların doları varsa bizim Allah'ımız var.' diyenlere hatırlatma yapalım.

Yaktığınız doların üzerinde 'İn God We Trust' yani 'Allah'a Güveniyoruz' yazıyor. pic.twitter.com/GfKufWIuvC

— Saffet Dağbakan (@SaffetDagbakan) 11 августа 2018 г.
The local media reported that crowds of people came together, kissing Turkish lira banknotes and ripping US dollars apart.
These protests come after Donald Trump's decision to double import tariffs on Turkish steel and aluminum caused a currency crisis in Turkey, with the lira collapsing to an all-time low against the dollar. The move has sparked a backlash from Turkish President Recep Tayyip Erdogan, who called on Turkish people to exchange dollars and gold for the lira.
READ MORE: Turkey's Erdogan Vows to Retaliate Against US Increase on Metal Tariffs
Relations between Washington and Ankara have been strained in recent years over Turkey's refusal to release American pastor Andrew Brunson, who was arrested in 2016 after a failed coup and accused of terrorism and espionage. In late July, he was released from prison and placed under house arrest, while facing the same terrorism charges.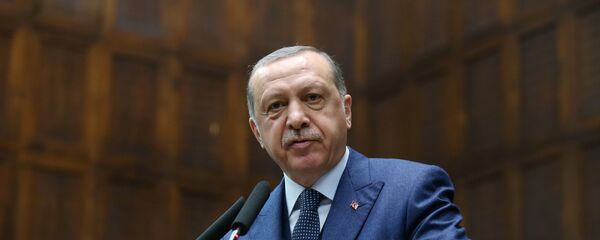 11 August 2018, 11:23 GMT
Moreover, the White House has objected to Turkey's plan to acquire the Russian-made S-400 air defense system. Last month, the US temporary halted transfers of F-35 fighter jets to Turkey, taking a month and a half to assess how canceling the delivery of the planes would impact relations with Ankara, its plans to purchase S-400 air defense systems and the US industrial base in the event that Ankara withdraws from the international F-35 program.
Ankara has blasted US efforts to disrupt the delivery of F-35s, reminding Washington that Turkey has already paid Lockheed Martin for part of its order for 100 F-35s. Turkish officials told the US that the country has a right to self-defense and explained that it would buy NATO air defense systems if Ankara were to receive an appropriate offer.