The new missile, a new modification of the Fateh-110 "Conqueror" solid-propellant surface-to-surface missile dubbed the Al-Mobeen ("The Divine Conquest"), was unveiled on Monday by Iranian Defense Minister Brig Gen. Amir Hatami.
Featuring an estimated range between 300 and 500 km, the Al-Mobeen is said to feature improved accuracy and radar-evading capabilities. According to the defense minister, the weapon has already been tested. Created by the Defense Ministry's Aerospace Industries Organization, the stealthy missile is said to be capable of hitting both sea and ground-based targets.
Emphasizing that Iran's missile developments served as a "defensive deterrent," General Hatami said that he would "not spare any effort" to further "increase the country's missile capabilities," according to FARS News.
The general also vowed that Iran would never allow foreign powers to pressure Iran on its missile program, saying such efforts amounted to interference in Iran's domestic affairs.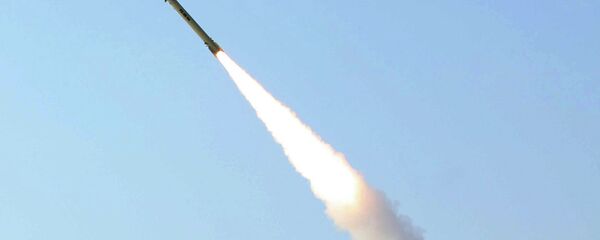 10 August 2018, 22:20 GMT
Thought to possess over 1,000 short and medium-range missiles in its arsenal, the Iranian military is believed to have refrained from tests in 2018 until last week, when US military officials told the US media that US satellites had
picked up
a Fateh-110 Mod 3 missile being tested in Iran's territorial waters during drills in the Strait of Hormuz.
The Pentagon did not comment on the suspected missile launch, but said the Iranian military drills were an obvious "message" to the US about Iran's capabilities.
Some 20 percent of global oil supplies flow through the Strait of Hormuz, including crude oil from Iran, Iraq, Kuwait, Saudi Arabia, Qatar and the UAE. According to Lloyd's List Intelligence, some 80 percent of these supplies are destined for China, Japan, India, South Korea, Singapore and other Asian markets. Economists emphasize that any closure of the strait, no matter how short, would have immense economic repercussions and could lead to the paralysis of the global economy.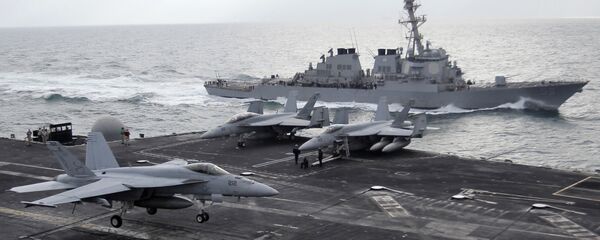 Last week, Iranian foreign minister Javad Zarif
blasted
the US Navy, which was monitoring the Iranian drills, by pointing out that the US military in Iran's "backyard" was over "7,000 miles from home."
Tensions between Washington and Tehran escalated in May after President Trump withdrew from the Joint Comprehensive Plan of Action (JCPOA), a deal promising Iran sanctions relief in exchange for guarantees that the country would not pursue nuclear weapons. Other JCPOA signatories, including Russia, China, the UK, France, Germany and the European Union, have scrambled to try and save the deal amid the looming re-imposition of US energy sanctions in November. Last week, Iranian Navy Commander Rear Admiral Hossein Khanzadi pledged to guarantee the security in the Strait of Hormuz, emphasizing that Iran was "equipped with the most complicated infrastructure and manpower to ensure sea, air and coastline security" in the region.