When a bomb fell on a school bus in the Yemeni city of Dahyan on August 9, killing dozens, including 40 children, and injuring dozens more, it proved to be the straw that broke the camel's back: US mainstream media could no longer refuse to pay attention to the war that has killed 13,000 and threatened millions with cholera and starvation.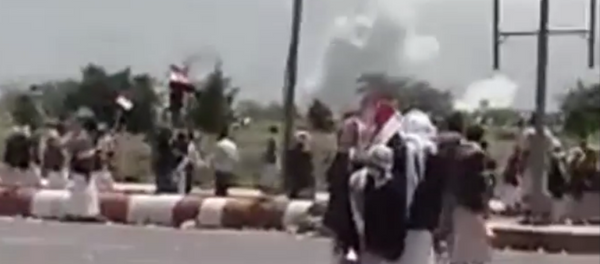 20 August 2016, 23:24 GMT
"It is quite remarkable that in these last three years, where the US has been so involved in this devastating war in Yemen, there has been so little coverage," Medea Benjamin, activist and co-founder of anti-war organization Code Pink, told Radio Sputnik's Fault Lines Tuesday. "And we in Code Pink have had campaigns trying to get even MSNBC to cover the war. A year went by; they didn't do a story on the war in Yemen. So it's not just Fox News; it's CNN, it's MSNBC, and it's in general even the print media. There's been almost no coverage on Yemen for the past three years."
[Interview begins 78:00]
​Noting to hosts Garland Nixon and Lee Stranahan that MSNBC was once thought of as a leftist news source, Benjamin said her organization's relationship with the network has changed over the years, and they and the conflicts they oppose get significantly less attention there now. Famous talk show host Phil Donahue's show, "Donahue," ran from July 2002 until February 2003 on MSNBC and used to host them, but the show was suddenly cancelled "because it was too critical of the Iraq War," indicative of the network's slow drift right. "And we've seen it become harder and harder… these cable networks don't cover international news unless it has to do with Russia. It's pretty remarkable how little… international news we get in the mainstream media in this country."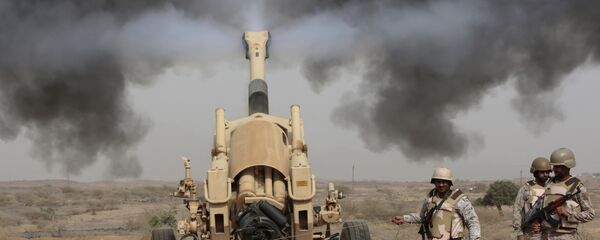 As activists, journalists and the public at large demanded to know of the connection between the deadly strike and the US' support for the Saudi side of the war, the Pentagon stepped back from providing answers, opining that "we may never know if the munition [used] was one that the US sold to them," as Army Maj. Josh Jacques, a spokesperson for US Central Command, told Vox.
"We don't have a lot of people on the ground," the major said, noting that it was unclear if an investigation would ever happen or how long it might take.
In March, Defense Secretary James Mattis admitted that the US military is "doing the planning" of Saudi Arabia's military campaign against Yemen, as well as refueling Saudi warplanes mid-air, Sputnik reported.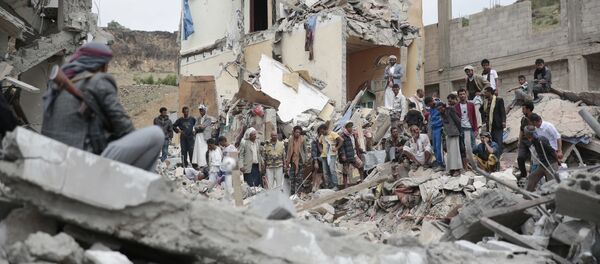 "When we're doing the planning, we have shown them how you have what we call no-strike zone," Mattis told reporters at the Pentagon March 29.
Then in May, it was revealed that US Army Green Berets are operating on the Saudi-Yemeni frontier, "doing the Saudis' dirty work" chasing down missile launch sites and stockpiles, as former CIA agent and Sputnik News analyst John Kiriakou described it.
Pentagon spokesperson Navy Lt. Cmdr. Rebecca Rebarich told Vox Monday that the US Defense Department "cannot independently verify what may have been found on site," noting that "the US is not investigating strikes conducted by the Saudi-led coalition." She suggested the Saudis might have more answers.
But August 17, CNN dropped a fact-bomb that Stranahan called "shocking" — both in its content, and in the fact that CNN aired it.
​The bomb that fell on Dahyan on August 9 was a 500-pound, laser-guided munition manufactured by US defense contractor Lockheed Martin.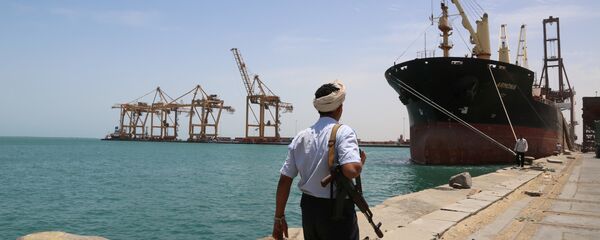 "I am so glad to finally see CNN not only covering the slaughter of these children, but calling out General Dynamics, Lockheed Martin and Raytheon for being the ones that supply these bombs," Benjamin told Sputnik. "This has been happening every week since March of 2015, but to finally see a graphic in a mainstream US media calling out these weapons manufacturers is a positive thing," she said, adding that it "puts pressure on the US Senate."
However, the last time the Senate took up this question last March, the upper legislative house voted 55 to 44 not to invoke the War Powers Act, which would have forced US President Donald Trump to end all US involvement "in or affecting" the war in Yemen within 30 days, Sputnik reported at the time.
​Benjamin noted that the Pentagon claims it's impossible to determine where US-supplied bombs are falling in Yemen and so refuses to take responsibility for having supplied those bombs. "Of course it's US bombs that were used: the US is supplying billions of dollars of bombs. But it was great that CNN went a step further and actually identified which bombs were being used, which companies they were coming from, not only in the graphic, but there have been shows that show the remains of these weapons with their identifications on them."
"So yes, something that was 'too difficult' for the Pentagon to do seemed quite easy for CNN."