The US might push the German Ministry of Defense toward its own expensive aircraft, Business Insider opined Tuesday. As commander in chief, US President Donald Trump has touted sales of aircraft, missiles and other armaments to nations including Japan, Saudi Arabia and South Korea.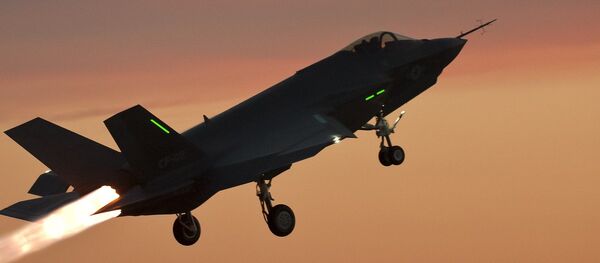 1 February 2018, 21:18 GMT
Trump has called on NATO members to spend more money on their militaries and has singled out Germany specifically, which is on pace to attain the largest current account surplus in the world in 2018, the Financial Times reported Monday.
Germany buying F-35s would benefit Lockheed Martin, the US defense giant based in Maryland. Germany has limited its search to four aircraft, with Lockheed Martin's F-35 one of them. The remaining menu options include Boeing's F-15 Strike Eagles and F/A-18 Super Hornets as well as the Eurofighter Typhoon.
The F-35 has already become a political third rail in Germany: after being warned that expressing a preference in favor of the F-35 could get him fired, the German air force's chief of staff was sent to an early retirement anyway, though it was unclear if he actually violated the ultimatum. According to Handelsblatt, a German business newspaper, the ouster was "overtly political."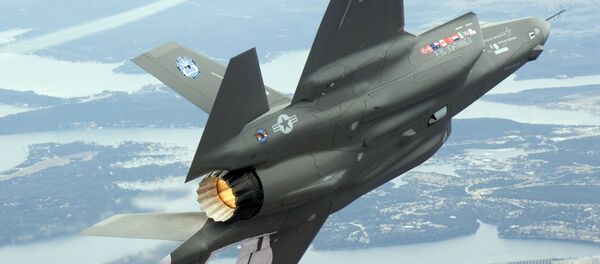 "This overtly political move seems to make a decision in favor of the Eurofighter a foregone conclusion. But it comes amid a fierce transatlantic debate about Germany's military preparedness and its willingness to carry its own weight within NATO. US President Donald Trump has been particularly vocal in criticizing Germany for what he sees as free-riding on the back of American defense spending," Handelsblatt reported in April.
The "age of Trump" weighs heavily on the aircraft decision, Defense News reports.
"If it was just technical, this [Tornado replacement program] would not be an issue. But right now, everything is political between Germany and the United States," said Christian Möllig, deputy director at the German Council on Foreign Relations.
No decision has been made, and it's not clear when there will be a decision.
For months, Sputnik has reported that Germany's MoD is leaning away from the F-35, a disposition that may be justified by the aircraft's unproven combat history, well-documented record of technical and mechanical issues and hefty price tag.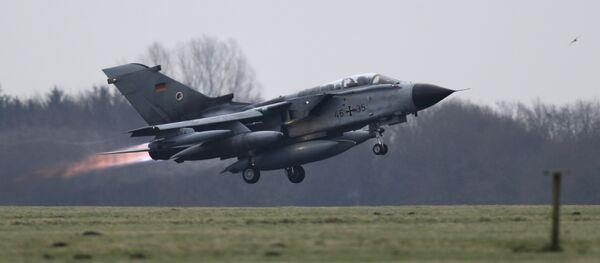 Instead, certain German policymakers prefer the Typhoon. This preference was made clear when Berlin asked the Pentagon in June whether it would be possible to certify the jet to carry nuclear weapons, a NATO treaty requirement. The US fighter aircraft Germany is considering have already been certified or are slated to be certified within 10 years or so, in the case of some F-35 variants.
To meet its NATO obligations, the plane Germany chooses would almost certainly need to be able to carry those weapons. Getting those Typhoons in shape to handle nuclear weapons could take five to 10 years, "potentially throwing a big wrench in the Luftwaffe's [the German air force's] timing," Defense News reported August 17.
Since the Pentagon has the opportunity to respond to Berlin about whether those Typhoons can be nuclear-capable like the Tornados have been, US analysts speculate that the Pentagon has an outsized influence in Berlin's final decision.
The argument goes like this: If, for some reason, the Pentagon replies by saying the Typhoon can't be outfitted with nuclear weapons or that the costs would be astronomical, the F-35 would become a more viable option by virtue of being the newest and most network-centric aircraft among the US offerings, not to mention its ability to fly with a low radar cross section — a trait the ousted German air force chief of staff praised.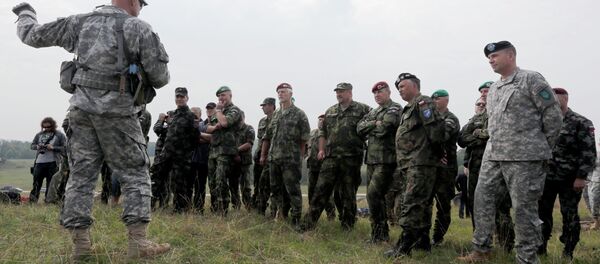 19 February 2018, 10:06 GMT
The Pentagon has stayed mum about the topic, like Germany's MoD. "The German Tornado replacement program is a sovereign national decision," a Pentagon spokesperson said recently, noting that the progress on "policy reviews" taking place at the Defense Department will be kept private, according to Defense News.
One alternative route is to push back the decision altogether by cancelling the Tornado replacement program, which would force Berlin to soak up the rising costs of keeping aging Typhoons airworthy, according to Karl-Heinz Kamp, president of the Federal Academy for Security Policy in Germany.
"There does not have to be a nuclear Tornado replacement. That's why they will keep flying the Tornados, despite the price tag and despite having asked about a Eurofighter nuclear certification in Washington," Kamp forecasted August 17, Defense News reported. Defense News further added that in the eyes of many Germans, having nuclear weapons under the NATO alliance is more of a liability than the strategic edge NATO proponents claim it to be.
At least one compelling reason for Germany to defer a decision is its already-cemented partnership with France on the development of a next-generation "superfighter." While the German-French alternative seems attractive for German and French politicians seeking to protect Europe's economic and strategic interests, it reportedly won't be available until the middle of the century.
But moving ahead with F-35s would kill the superfighter's development, according to the head of the military division at Airbus, one of the companies involved in the project. "As soon as Germany becomes an F-35 nation, any cooperation with France on combat aircraft dies," Dirk Hoke said earlier this year, Handelsblatt reported.
While France and Germany are the only nations formally aligned on the sixth-generation fighter aircraft, "we are certain this should be a truly European project," a spokesperson for Airbus told Sputnik Mundo in July.