German Foreign Minister Heiko Maas has urged Europe to react to the US sanctions-related policy on Russia, China, Turkey and other important economic partners.
"Washington prompts us to formulate European responses to its sanctions-related policy, something which pertains to Europe and Germany. We should react to the United States suddenly imposing uncoordinated and rather nonspecific sanctions against Russia, China, Turkey and in the future, perhaps, against other important trading partners," he underlined.
READ MORE: Germany Warns Against EU-US Trade War, as 'Transatlantic Relations Are at Stake'
Maas also said that Donald Trump winning the 2016 US presidential elections showed that "we do not know America as much as we thought."
Europe "needs a new, balanced partnership with the United States," Maas said, adding that "by strengthening the European direction of the transatlantic partnership, we create conditions for the EU and the US to rely on each other."
The German news agency Deutsche Presse-Agentur (dpa) cited Maas as saying that he plans to make use of the Year of Germany in the US, which is due to begin on October 3, in order to promote the new policy.
READ MORE: Germany, France, UK Agree to Defend Trade Interests in Standoff With US
"It's high time we reassess the transatlantic partnership in a sober, critical and even self-critical way," Maas emphasized, in an apparent reference to US-German relations.
He called for more efforts to be made so as to "strengthen the autonomy and sovereignty of Europe in trade, economic and financial policies."
"It will not be easy, but we have already begun to do it. We are working on proposals pertaining to […] payment channels and creating a payment system independent of SWIFT to establish a European currency fund, Maas noted.
READ MORE: US Senators Warn Germany, France, UK Against Bypassing Sanctions on Iran
Earlier on Monday, the new US sanctions against Russia related to alleged Moscow's involvement in former Russian intelligence officer Sergei Skripal's poisoning came into force.
Maas, meanwhile, pointed out in an article published by the German business newspaper Handelsblatt last week that if Europe wants to save the Iran nuclear agreement, it should review its partnership with the US and create an EU payment system to serve as a "counterweight" to the US, whenever Washington "crosses red lines."
"Single-handedly, we will fail in this task. The main goal of our foreign policy is therefore to build a strong, sovereign Europe. "That's why it is indispensable that we strengthen European autonomy by creating payment channels that are independent of the United States, a European Monetary Fund and an independent SWIFT system," Maas wrote.
READ MORE: US Mulls Pulling Troops From Germany as Trump-Merkel Tensions Mount — Reports
He added that Germany needs a "balanced partnership" with the White House, in which it "brings its weight where the US withdraws."
The remarks were preceded by the EU pledging to counter the US' renewed sanctions on Tehran and scrambling to persuade the Islamic Republic to adhere to the terms of the 2015 Iran nuclear deal, also known as the Joint Comprehensive Plan of Action (JCPOA), which was abandoned by Washington in early May.
In a separate development that month, German President Frank-Walter Steinmeier told the broadcaster ARD that he is seriously concerned over the current development of transatlantic relations.
READ MORE: US State Dept Cites D-Day as Example of 'Strong Relationship' With Germany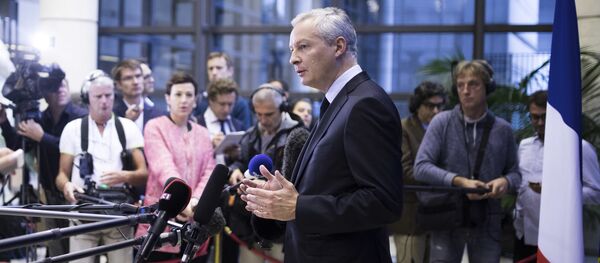 He claimed that the Trump administration "perceives Europe not as a part of a world community within which countries cooperate, but rather as an arena where every country has to find its way around."
Steinmeier praised German Chancellor Angela Merkel and French President Emmanuel Macron for doing "the right thing in Washington," since they pointed at European interests not only in the sphere of trade, but also stressed the necessity to preserve the JCPOA.
President Donald Trump announced Washington's withdrawal from the Iran nuclear deal on May 8, vowing to impose the "highest level" of sanctions on the Islamic Republic and threatening to slap sanctions on those European companies which will keep doing business with Tehran.