During the hearings which opened at the UN International Court of Justice (ICJ) on Monday, Tehran demanded the suspension of renewed US sanctions against Iran, which it said could devastate the Iranian economy.
"The current US Administration is pushing the sanctions to their maximum with the sole aim of bringing Iran to its knees," Reuters quoted Iranian lawyers as saying.
READ MORE: US Sanctions: 'An Attempt to Influence the Political Sphere in Iran' — Expert
They blamed the US for "besieging Iran economically, with all the dramatic consequences that a siege implies for the besieged population."
Lawyer Mohsen Mohebi, in turn, accused Washington of "publicly propagating a policy intending to damage as severely as possible Iran's economy and Iranian nationals and companies."
"This policy is nothing but naked economic aggression against my country. Iran will put up the strongest resistance to the US economic strangulation, by all peaceful means," he underscored.
Pompeo Slams Iran's Case Against US at ICJ
The US Secretary of State Mike Pompeo said, in turn, that "Iran's filing with the ICJ is an attempt to interfere with the sovereign rights of the United States to take lawful actions, including re-imposition of sanctions, which are necessary to protect our national security."
"The proceedings instituted by Iran are a misuse of the [UN top] court," he added.
Tehran filed the lawsuit with the ICJ in July, claiming that the new anti-Iranian sanctions violate the 1955 Treaty of Amity and Economic Relations between Iran and the US.
READ MORE: Effects of US Sanctions on Iran 'Stronger Than Anticipated' – John Bolton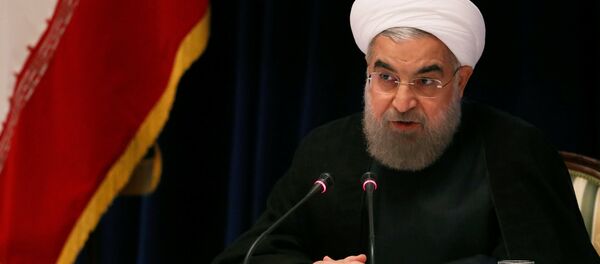 20 August 2018, 01:33 GMT
On August 7, the White House announced the re-introduction of the first phase of the sanctions, imposing restrictive measures on trade with Tehran involving the Iranian currency, sovereign debt, cars, aircraft, gold and other metals.
November's second phase will see Washington sanctioning Iranian oil and gas too, as part of US President Donald Trump's decision to withdraw from the Iran nuclear deal, also known as the Joint Comprehensive Plan of Action (JCPOA).
Trump announced the move in early May, and pledged to reinstate anti-Iranian sanctions, including those which prevent other countries from doing business with the Islamic Republic.