Syrian air defense forces were placed on full alert amid concerns about a possible US strike against the country, Al Masdar News reported, citing local media sources.
A source at the Mezzeh Air Base claimed that the troops stationed at the facility were ordered to prepare for a possible attack against Damascus.
While the exact reason for this move wasn't revealed, "it is believed to be due to the potential threat of a US strike on the capital or its surrounding area," the news agency added.
The Syrian government however hasn't yet commented on these reports.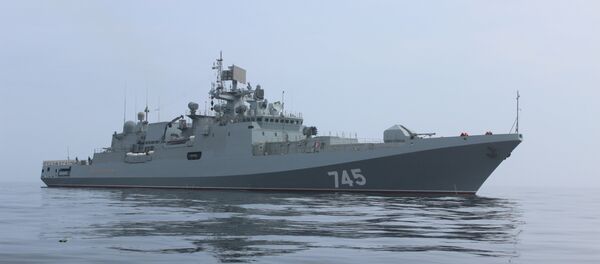 26 August 2018, 14:09 GMT
Earlier, the Russian Defense Ministry announced that militants in the Syrian province of Idlib were preparing to stage a false flag chemical weapon attack against civilians in order to blame Damascus and give the US and its allies a pretext for a punitive strike against Syria.
The ministry noted that the US and its allies keep "building up a group of cruise missile carriers in the Middle East region" in preparation for a possible strike.
French President Emmanuel Macron also declared during his speech to French ambassadors on Monday that France as ready to launch new strikes against Syria in case of a chemical weapons attack there.
READ MORE: Macron: France Ready to Conduct New Strikes on Syria if Chemical Weapons Used
US National Security Adviser John Bolton also reportedly warned Russian Secretary of the Security Council Nikolai Patrushev that Washington was prepared to take forceful military action against Syria if Damascus uses chemical weapons, stressing that America as prepared to respond with greater force than before.
The US, UK, and France coordinated a massive airstrike on Syria in April 2018 after an alleged use of chemical weapons in Douma had been reported by the controversial White Helmets NGO, which has repeatedly been caught staging false flag attacks.
READ MORE: US Destroyer Can Strike Any Part of Syria From Mediterranean — Russian MoD
In July, however, OPCW experts announced that they had found traces of organic substances containing chlorine, reportedly used in the attack in Douma. Yet there was no evidence that nerve agents had been used in the attack.