Sputnik discussed Donald Trump's threats to pull out of the WTO with Nicola Borri, an economics and finance professor at Rome's LUISS University.
Sputnik: So what are your thoughts on Trump's statement and do you take him seriously, that he would take the US out of the WTO?

29 August 2018, 13:44 GMT
Nicola Borri: I think so; I think Trump has been a very creative President, and I think that Trump and the US now see trade as a game in which a country wins and a country loses. In his view, the WTO is harming the United States. So I think they will try to threaten with an exit to try to get as much as possible in terms of trade concessions and rules for the protection of the US economy, for example, from China, but if he doesn't succeed I think he will pull out.
READ MORE: US Economy Will Also Suffer: Russian Economy Ministry on Trump's WTO Claim
Sputnik: Do you think that would be a good thing for the US as far as a bargaining card, or would that pretty much be a disaster? What are your thoughts on that?
Nicola Borri: I think it would be bad for the United States and it would be especially bad for the world as a whole. When the WTO was created after the Second World War, the idea was that trade was beneficial for every country and that is why it's good to have an organization that settles any disputes and promotes trade. Unfortunately now, in the United States as well as in other countries, for example, like Italy, where I am right now, governments think that trade is a game in which some countries, the stronger countries, can benefit and other countries will lose.
So, the WTO is seen as a bargain for these countries. So, Trump thinks that the United States is a big country, it's a powerful country, and in Trump's view he can impose on other countries in the world its rules, to the benefit of US citizens. I think this view is wrong and that the result of this would be a reduction in overall trade. This we know, from a lot of research that's been done over the years, is harmful to everyone, for the United States and for the other countries.
READ MORE: Trump Threatens to Pull US Out of World Trade Organization — Report
Sputnik: So who would suffer more? Would the US suffer more or other countries like China and the European Union?
Nicola Borri: It's really hard to say, because when these policies are pushed forward the idea is that some small groups of people, of firms, will also benefit. To give a very simple example, it is possible that these policies of Trump might benefit workers that are not very skilled in the United States that are now competing against China, while the United States as a whole country will lose. This is true also for China; it's possible that some Chinese companies will suffer but other might benefit because, for example, they will start trading with Europe. A good example is Trump's tariffs against Chinese steel; Chinese companies cannot basically sell anymore in the United States unless they pay really very large tariffs, so they're moving their exports to Europe.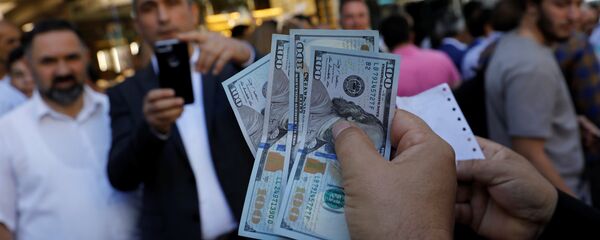 27 August 2018, 13:47 GMT
Sputnik: Actually US Trade Representative Robert Lighthizer said that allowing China into the WTO in 2001 was a mistake, what do you think of that kind of comment? China is currently engaged in trying to sue the US because they're not happy with the tariffs that the US imposed on Chinese goods. Trump, of course, has been very unhappy about the court that is  the WTO's appeal body, because he's complained that the US barely wins any cases, they never win lawsuits, and I was wondering do you think this is linked to the current trade war between the US and China in any way?
Nicola Borri: Yes, it is definitely linked because when China entered the WTO, that meant that countries like the United States could not simply unilaterally impose, for example, anti-dumping tariffs —  tariffs to protect some industries when you think that the other country is using unfair practices, so that's what Trump thinks. Trump thinks that China is using unfair practices and it will likely use anti-dumping tariffs. However, it cannot because the WTO would basically sanction the United States, so Trump is trying to avoid that.
READ MORE: 'No Panic': WTO Chief Unperturbed by Trump's Withdrawal Threat
So whether it is right or not to have China in the WTO? Well, clearly China is a country where the state is involved in business and it's possible that some unfair practices are still in place. It is possible that working conditions are not as safe as in other countries, it is possible that property rights are not fully protected. However, the idea was that China was a fast-growing economy and that over time things would improve and having China inside the WTO was the first step to having China in world trade, in the economy, so I personally think it was a good idea to have China in. Unfortunately, Trump's policies are aimed at basically breaking the WTO, breaking the rules that limit what countries can do in world trade.
The views and opinions expressed by Nicola Borri are those of the speaker and do not necessarily reflect those of Sputnik.