"I have been saying, and I confirm my thinking that the government on the one hand and al-Nusra [on the other], which is an organization declared terrorist by the [UN] Security Council, are having the capability to produce weaponized chlorine," de Mistura told reporters.
READ MORE: US, Allies Supply Arms to Nusra, Daesh Through Third Countries — Damascus
The envoy underscored that chlorine has "unique horrible capacity of being on the gray zone between what is considered a chemical attack and not."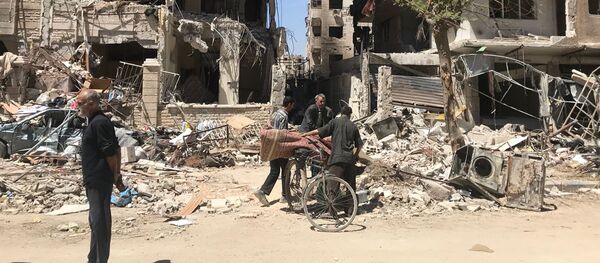 26 August 2018, 16:27 GMT
Russia's Defense Ministry has recently warned that the leader of the Tahrir al-Sham terrorist group, which is affiliated with the Nusra Front*, is planning a chemical attack against civilians in the Syrian Idlib province in order to provoke western nations into retaliating against Damascus.
Last week, Russian Defense Ministry spokesman Igor Konashenkov said terrorists smuggled eight canisters of chlorine gas into a village southwest of Idlib. According to Konashenkov, a chemical attack would create a pretext for Western intervention in an Idlib operation.
Previously, Syria accused terrorist of using chemical weapons, at the same time noting that Damascus eliminated all of its chemical arsenals in 2013 and that Syria would not use chemical weapons.
*Jabhat Nusra, also known as Al-Nusra Front is a terrorist group banned in Russia