Over 100,000 farmers and workers flocked to India's capital, Delhi, on Wednesday demanding relief for distressed farmers and job opportunities for the labor class.
Opposition parties termed the rally as an indication of the rising resentment among the rural population that decides the fate of any government. Rural India is home to at least two-thirds of India's 1.3 billion people.
READ MORE: India Cancels Export of Live Sheep, Goats to UAE Amid Protests
"This is the biggest rally of the working people that Delhi has seen in decades. Historic rally … demanding better wages, more jobs, better prices for farm produce, an end to privatization, stopping changes in labor laws marks a new stage in the struggle of working people," the Communist Party of India (Marxist), which is leading the protest near Parliament, said.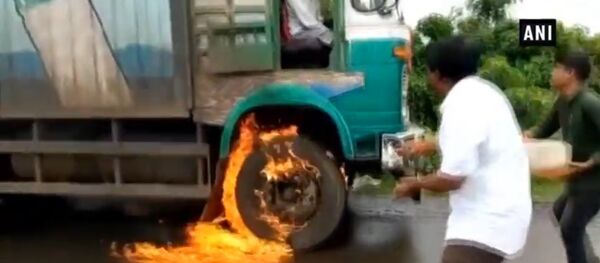 The Union Government is facing intense pressure from the rural population, amidst a sharp fall in commodity prices and stagnant wages with fewer workdays ahead of next year's crucial general election.
"We gathered to demand at least 200 days of employment annually for workers under the Mahatma Gandhi National Rural Employment Guarantee Act. Presently, under the laws, the government is bound to provide us a minimum of one hundred days of employment but we rarely get 30-40 days annually. Prices of the essential commodities have been rising more than the increase in our daily wages," B Ramachandran, president of the Agricultural Workers Union in the Sangareddy district of Telangana, told Sputnik.
Sonu Pekra, who came all the way from Balrampur of Chhattisgarh, voiced concern over extremely low wages compounded by a drought that had caused crop failure in many areas.
"This year we were not able to harvest rice due to drought. Other than growing rice, I do not have much work left in the area. The country's farmers are very angry with this government," Sonu Pekra, a rice grower from Chattisgarh, told Sputnik. 
Most of the protesters claimed that they were not getting ample employment and even if they had, they were severely underpaid. They complained that the Modi government had not been able to deliver on a promise of creating 20 million jobs annually for young people.
READ MORE: Election Year Debacle: Modi Government's Key Economic Advisor Quits
The Congress party, India's main opposition party that ruled the country for 65 years since independence in 1947, has launched a scathing attack on the Bharatiya Janta Party-led government for failing to deliver on its promises. However, Agriculture Minister Radha Mohan Singh has claimed that the government is putting farmers first and working on initiatives such as easy credit to help meet Modi's target of doubling farm income by 2022.