Labour leader Jeremy Corbyn has pledged to tackle the "social cancer" of anti-Semitism in the UK and beyond, while admitting that it is a difficult time for the country's Jewish community.
In his Rosh Hashanah message, issued on Sunday, Corbyn extended his "warmest greetings" to Britain's Jews and said, "I would like to reiterate that the Labour Party stands in solidarity with the Jewish community in the fight against antisemitism."
READ MORE: Britons Tend to Doubt Corbyn's Denial of Honoring 1972 Munich Attackers — Poll
"We will work to eradicate the social cancer of antisemitism wherever is surfaces, including in our own party."
Moreover, he stressed the need for change and urged everyone to work together in the name of social justice.
Despite the party's National Executive Committee (NEC) adopting the IHRA's full definition of anti-Semitism earlier this month, the everlasting scandal has continued, with MP Chuka Umunna saying the party is "institutionally" anti-Semitic.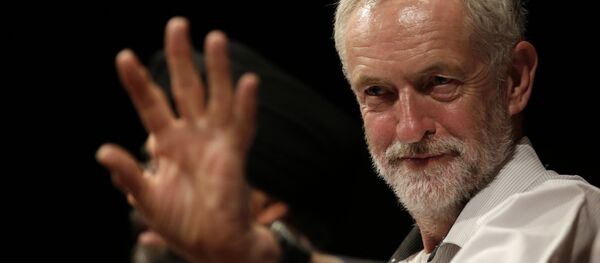 2 September 2018, 12:56 GMT
MP Umunna, who formerly served as the UK's shadow business secretary, said it is "difficult" for him to make such a statement about his own party, but insisted that there is "clearly a problem."
Umunna is yet the latest MP to publicly speak out against Labour, calling for tough disciplinary action and a more robust approach to tackling anti-Semitism.
The scandal has divided public opinion, with some siding with a number of Jewish rights groups and accusing Labour of being anti-Semitic, while others have dismissed the claims as an attempt to smear Corbyn's party, which has been gaining on the Tories in recent months according to some polls.
READ MORE: 'Champion of Peace': Israel's Arab MPs Back Jeremy Corbyn in Antisemitism Debate