"The attack of troops on the side of President Abd Rabbuh Mansour Hadi with the support of the military Arab coalition on Al Hodeidah began from several directions," Taniji said, as quoted the WAM news agency.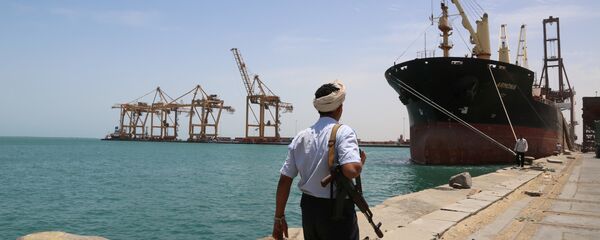 17 September 2018, 22:04 GMT
According to the commander, the Houthis lost their ability to resist. Coalition aircraft are bombing their positions on the outskirts of Al Hodeidah. The coalition reported that it had cut off the channel of supply of rebels in Hodeida from the city of Saada. According to Taniji, thousands of trained fighters of the Yemeni resistance will stop the Houthis' attempts to regain the areas of Al Hodeidah that were repulsed from them.
In turn, the Al Masirah broadcaster, which is controlled by the insurgents, reported that the Arab coalition had inflicted a strike on the building of the naval faculty in Al Hodeidah.
Yemen has been engulfed in an armed conflict between the government forces led by president Hadi and the Houthi rebels for several years. The Saudi-led coalition of mostly Persian Gulf nations has been carrying out airstrikes against the Houthis at Hadi's request since March 2015.
READ MORE: Yemeni Houthi Rebels: Control Over Al Hodeidah Port Not Under UN Competence
The situation in the war-torn country has deteriorated sharply since June, when the Saudi-led coalition launched an offensive to seize Al Hodeidah, a key port city for humanitarian aid, from the Houthis.