While the administration of US President Donald Trump previously stated that America condemns "any terrorist attack," the US ambassador to the UN noted during CNN's State of the Union program on Sunday that Iranian President Hassan Rouhani should look at his own government for causes of the attack.
"He's got the Iranian people […] protesting, every ounce of money that goes into Iran goes into his military, he has oppressed his people for a long time and he needs to look at his own base to figure out where that's coming from," said Haley. "The thing he's got to do is look in the mirror," she added, cited by the BBC.
Haley's comments came one day after four gunmen attacked a Revolutionary Guard military parade in the Iranian city of Ahvaz, killing 25, including soldiers and civilians. An anti-government Arab group — Ahvaz National Resistance — and Daesh* claimed responsibility for the brutal killings.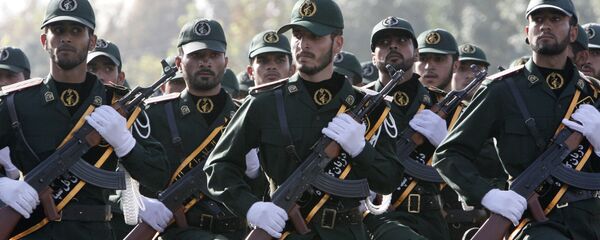 23 September 2018, 10:44 GMT
On Sunday, before a flight to a UN session in New York City, Iranian President Rouhani declared that Iran would "not let this crime stand."
"It is absolutely clear to us who committed this crime […] and whom they are linked to," Rouhani said, adding that, "the small puppet countries in the region are backed by America, and the US is provoking them and giving them the necessary capabilities," cited by Washington Post.
Rouhani did not specifically mention which countries were the "puppet" nations he was referring to, but Iran has accused US-backed states of being behind the attack. Iranian Supreme Leader Ayatollah Ali Khamenei posted to his website that the attack came as part of a "continuation of the conspiracies by the US-backed regimes in the region which have aimed at creating insecurity in our dear country."
Iranian Foreign Minister Javad Zarif accused "regional terror sponsors and their US masters" of organizing the attack, also noting that Tehran would respond "swiftly and decisively." On Saturday, Iran summoned diplomats from the UK, the Netherlands, and Denmark, accusing these countries of hosting Iranian opposition groups within their borders.
READ MORE: Trump Ready to Meet With Iran's Representatives at UN General Assembly — Pompeo
The Trump administration previously expressed support for Iranians "against the scourge of radical Islamic terrorism and express our sympathy to them at this terrible time," according to US State Department spokeswoman Heather Nauert, cited by Sputnik.
Iranian President Rouhani was reported to have planned to meet with Trump at the UN General Assembly in New York, however, the meeting was cancelled without explanation on Sunday by the Iranian Foreign Ministry.
*Daesh (also known as ISIS/ISIL/IS) is a terrorist group, banned in Russia, US and many other countries.