"The Castro 10 vessel is working on the eastbound stretch. It has laid roughly 30 kilometers [of pipes] making up two strings – that's around 15 kilometers of each string," Jens Mueller said.
Construction is underway in German waters, up to 32 feet deep. A second pipe-laying vessel is expected to arrive in the coming months to help finish the construction of the German segment by the end of 2018, the spokesman said. He explained that construction work was to wrap up before the start of the herring spawning season.
READ MORE: Nord Stream 2 'Unstoppable' Now — Media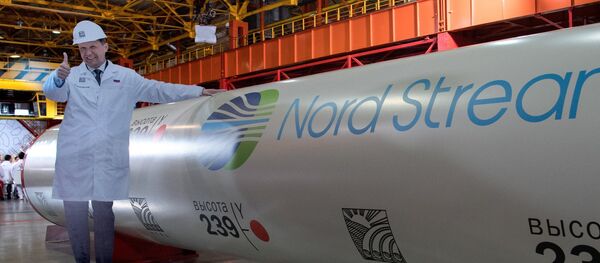 16 September 2018, 22:22 GMT
Nord Stream 2, which is a joint venture of Russia's Gazprom with France's Engie, Austria's OMV AG, UK-Dutch Royal Dutch Shell, and Germany's Uniper and Wintershall, aims to deliver 55 billion cubic meters of Russian natural gas a year to the European Union across the Baltic Sea to Germany. The pipeline, which would run across the territories of Russia, Finland, Sweden, Denmark and Germany, is scheduled to become operational at the end of 2019.