Military.com's Oriana Pawlyk reports that as of August 31, US tankers like the KC-135 Stratotanker had dropped off incredible sums of fuel to other aircraft, citing data from US Central Command officials. An unknown — but likely high — number of recipient aircraft have been Saudi coalition jets bombing the Houthi Shia militia forces in Yemen.

22 September 2018, 00:34 GMT
As of January 1, 2018, the American air force had dropped off "88 million pounds of fuel in support of US missions and Saudi and Emirate operations against threats throughout the Horn of Africa, to include Yemen," US Air Force Central Command spokeswoman Capt. AnnMarie Annicelli said in the spring.
Saudi jets during that period of time and since have continued to perpetrate atrocities against Yemeni civilians. Last month, a Saudi coalition airstrike scored a direct hit on a school bus with a bomb supplied by the US, killing 44 children and 10 adults.
​"For three years, administrations of both parties have promised that US assistance will improve the targeting, but things on the ground are getting worse, not better. We're enabling a war that is killing innocent people and not making us one bit safer," Sen. Chris Murphy said last month. "That needs to stop."
An investigation into the incident organized by the Saudi-led coalition later said the airstrike had no military justification.
A spokesperson for US Central Command declined to comment on "the origin of the individual receivers" of the fuel in a statement to military.com earlier this month. Up until 2017, US Air Force Central Command (AFCENT) provided specific data on specific jets that were being refueled by American tankers, Pawlyk writes.
But, Pawlyk says, things changed last fall when "officials said they had erred in the way they previously provided statistics because they had no way of tracking refueling missions specific to Yemen or to individual jets and aircraft receiving fuel."
One problem allowing US support for the Saudi- and Emirati-spearheaded campaign in Yemen to go unnoticed has been a critical lack of media coverage on the topic, says Madea Benjamin, co-founder of Code Pink, an anti-war group.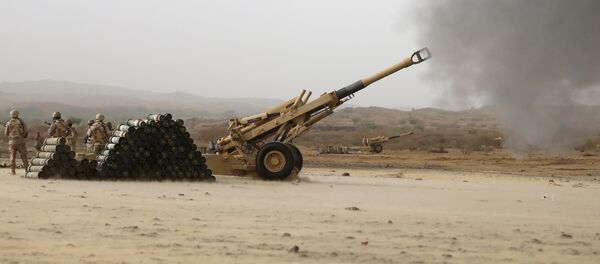 21 August 2018, 19:57 GMT
"It is quite remarkable that in these last three years, where the US has been so involved in this devastating war in Yemen, there has been so little coverage. We in Code Pink have had campaigns trying to get even MSNBC to cover the war. A year went by [and] they didn't do a story on the war in Yemen. It's not just Fox News" that's at fault for the lack of coverage, said Benjamin during an interview with Radio Sputnik's Fault Lines in late September.
"It's CNN. It's MSNBC… There's been almost no coverage on Yemen for the past three years," the activist observed.